Fuelling Success Together: we're unleashing the Power of Wellness at Our Live-Well Festival!
Fuelling Success Together: we're unleashing the Power of Wellness at Our Live-Well Festival! 
When it comes to wellbeing and looking after our people, we don't mess around. 
From 22nd - 26th May, we're pumped to be hosting Live-Well Festival, a whole week dedicated to supercharging our colleague's wellbeing so they can live their best life both on and off the clock. From sessions on sleep to the neuroscience of nutrition, we've gathered together industry experts across all areas of wellbeing to energise our colleagues around the world.  
So, want a taster of what's on offer over these 5 days for our people? Keep reading…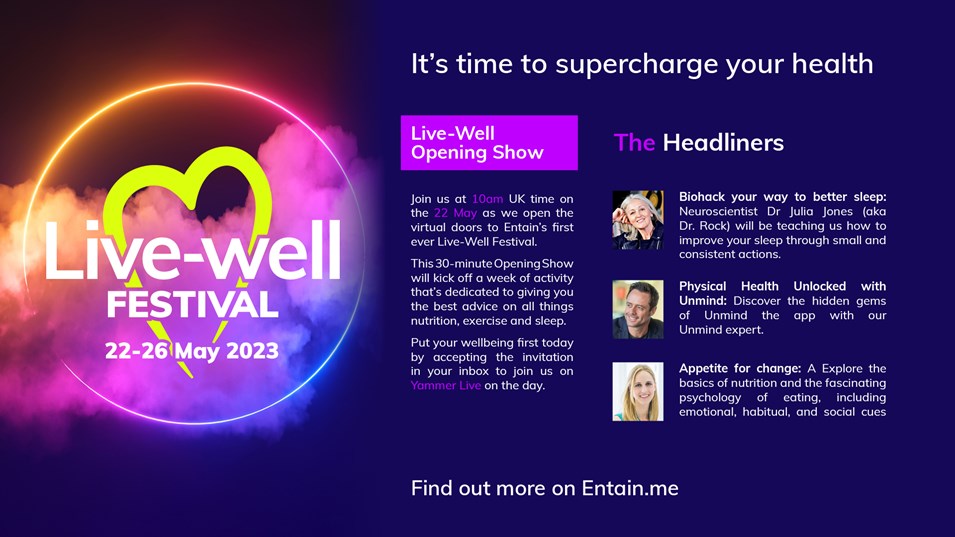 Monday: Live-Well Festival: The Opening Show  
We're kicking off the Live-Well Festival with a bang! Consider it a pre-game warm-up where we'll be giving everyone a sneak peek of all the exciting things we have in store for the entire week. We'll be getting our people ready to ignite their motivation and start this wellness journey on a high note! 
Tuesday: Get Well-fit with the Reopening of Entain's Online Gym  
It's time to hit the virtual gym and get the heart pumping! We're giving our Entain community an opportunity to meet their fitness goals with Entain's online gym, Well-fit, where there'll be an array of workouts, designed to challenge and inspire. Whether you're a yoga lover, a HIIT enthusiast, prefer strength training or cardio, there's something for everyone. Plus, we're giving our Entainers the chance to win a 4-week personal training programme by showcasing their progress! 
Wednesday: Enhance Your Sleep with Dr. Julia Jones  
Amp up your recovery and optimize your sleep. We're beyond excited to be partnering with renowned neuroscientist, biohacker, author, and coach Dr Julia Jones! Dr Jones will be sharing her valuable insights and small, consistent actions to take to improve sleep quality. Our people will be discovering the secrets to waking up refreshed, revitalized, and ready to tackle any challenge that comes their way. After all, a well-rested mind and body are the ultimate power couple! 
Thursday: Unleash Your Potential with Unmind  
As part of our partnership with Unmind, the workplace wellbeing platform, we're going to be unlocking the hidden potential of our people with Hannah Priday, our expert from the app. We'll be diving into the world of Unmind, an app that offers a treasure trove of tools and features to enhance your overall well-being. We'll be discovering how to optimize physiology, boost resilience, and promote positive mental health. 
Friday: Ignite Your Appetite for Change with Hayley Pedrick  
We'll be ending the Live-Well Festival on a high note with Hayley Pedrick, a functional medicine-trained nutritional therapist. In this inspiring webinar, Hayley will ignite an appetite for change, empowering our colleagues around the world to make positive choices when it comes to nutrition and fuelling their body. We'll be exploring how to nourish yourself with the right foods, optimize your energy levels, and enhance your overall well-being.  
At Entain, we understand that our people's well-being is the foundation of their success. There are good days, bad days and those weird ones in between, and all of them matter to us. This week's Live-Well Festival is just another step we're taking to make navigating life for our colleagues, just that bit easier.  
You can find out more about our commitment to our colleagues Wellbeing here!