Stadia: A workplace like no other!
Ever been to a to a greyhound racetrack? It's an atmosphere like no other, created by the buzz and energy of fans filling a stadium to get a front row seat to soak in all the action.
Our stadia teams at Crayford, Hove and Romford make sure that our customers have a safe, fun and unique experience that they'll never forget.
You'll be spoilt for choice when it comes to opportunities that will get working you right to the heart of the action. Whether it's Bar and Restaurant roles preparing and serving drinks and meals for spectators, taking bets, or ensuring our kennels and tracks are in tip top condition, you'll be part of a fun and friendly team, enjoying an electric atmosphere where no two days are the same.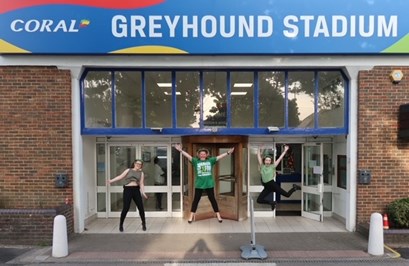 Let's meet our Stadia people!
Tell us about yourself, your role and why you joined the team?
Stephen: My role is Bar and Catering Manager and I joined in April 2022.  I love the location, flexible hours, bonus structure and good career opportunities here.
Laura: I'm the Office & Betting Manager and I joined in June 2015 as a waitress for work over Summer and never left!
Fraser: I'm a Betting Supervisor for the team and I joined due to the proximity of the Stadium to my home and my previous experience in the betting industry!
Andrew: My role is a Safety and Compliance Manager. I joined in November 2021. I was looking for a new challenge after working in the Crown Courts and this job appealed due to my previous experience in the industry.
Jade: My job role is Office Supervisor, I joined in December 2021 after 6 years of working in Ladbrokes! I joined because I wanted something fresh and exciting and to further my career with Entain.
Tell us about the types of roles and opportunities there are in our Hove Stadia team?
Stephen: We have lots of roles available in both our Bar and Catering team, which include Assistant and Chef roles working in our kitchens. Additionally, there are several team leaders and supervisory roles available. One of the more attractive parts of these roles are the fact you only work two nights a week. The rest of the time can be flexible if you make up your necessary hours that suit the business needs.
Laura: There are a huge range of roles in Hove Stadia: bar staff, betting cashiers, chefs, track team, racing office, paddock stewards, and more.
Andrew: Plenty of roles and scope to progress including restaurant supervisors, waiters, bar staff, tote operatives and various kitchen positions. There are various full time and part time roles available with genuine career progression available to hard working and diligent colleagues. 
Jade: There are several roles and opportunities in Hove Stadia alongside opportunities to develop. For example, I was recently offered to do a Level 4 Diploma in Spectator Safety Management, which is basically being a Deputy Safety Officer and overseeing the safety and the smooth running of the stadium when we are open to the public.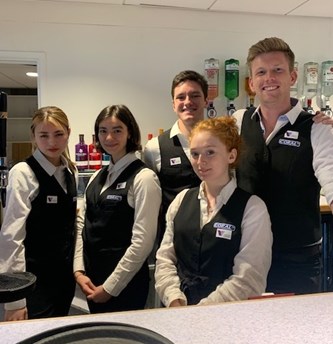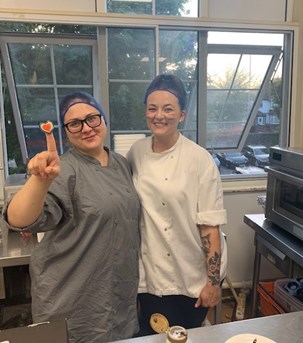 Would you say working in Stadia is different from other retail roles?
Stephen: Working in stadia is lots of fun. Not only do you get the excitement of working on site where the dogs are running, there is an incredible atmosphere on race nights and a profound sense of belonging to the stadia family from the existing team working here.
Frazer: It's clear that there is much more variety of roles in this type of team. There are staff for bar, restaurant, kitchen, betting, racing, training, office etc. whereas in a typical retail location, most of these aren't present. The way that all these teams interact and collaborate is unique to anything I have experienced elsewhere.
Andrew: Yes definitely! The main difference is you see live sport every day and at the heart of the action! You also have few regulars, so you can give a great service to new customers at every meeting. From a colleague point of view, much less focus on daily KPI's, diary planning etc and more sociable hours than retail. 
Jade: Coming from working in retail, I can see that there is a difference between the two. You have more freedom to progress in your job and you are encouraged to reach your full potential, but also you are supported by your managers and colleagues to do this.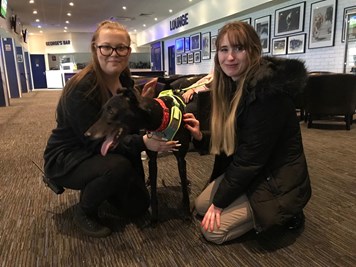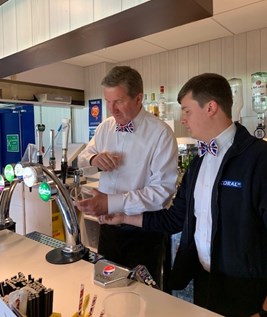 What do you love about your role in the team and why?
Stephen: My favourite part about the role is trying to be a positive influence on how people work and act whilst at work. I have a lot of experience within the hospitality industry and to be able to share knowledge as well as learn from the rest of the team is a wonderful thing.
Laura: The people I work with. In my role I work with such a wonderful and diverse team of amazing people.
Jade: I love being able to help my colleagues and being able to have a laugh with them without it being serious all the time.
How would you describe the culture in your team?
Stephen: The team are hardworking, inclusive, and always up for a joke and a laugh.
Laura: We're a big family in Hove Stadia and regardless of the department, we all get along and make time for some form of staff social a month – whether it be games night, or a picnic in the park next door.
Jade: We are a fun and friendly bunch of people; we can have monthly team bonding whether that be going to the pub or to the local park for a picnic and a game of rounders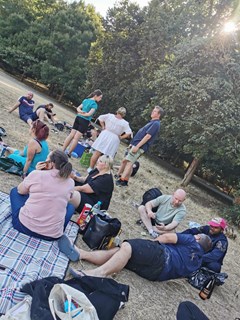 When hiring someone, what type of individual are you looking for to join the team?
Stephen: When hiring, I am looking for outgoing and positive people that are looking to work hard and dedicate themselves to providing a top service to our customers.
Frazer: To join the tote team, I would say we look for someone who is comfortable interacting with customers, happy and able to give up their Saturday evening, has at least a rudimentary understanding of how betting works and maybe has some experience handling cash in a work environment.  
Jade: I would say someone who is easy to get along with, is willing to learn and is also able to work as a team.
What advice would you give someone looking to join the team?
Stephen: It is a wonderful place to work with fantastic hours in comparison to other hospitality jobs. With the right attitude, you will have a fun time working here.
Laura: Do it! We offer a great range of benefits here and you'll be working with a great group of people.
Jade: Be yourself. Everyone working at Hove Stadium has their own personality and we all encourage each other to be ourselves.
Favourite moment so far since you joined?
Stephen: Running one of our big trophy final nights and watching the team at the top of their game do an incredible job.
Andrew: Finding out what brilliant creatures greyhounds are. If I was retired, had a garden and a larger sofa, I would rehome an ex-racer.
Jade: My favourite moment is when we went and played rounders with everyone from all different departments, we were all able to have a laugh and be silly for an afternoon.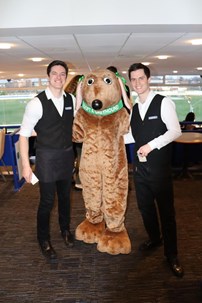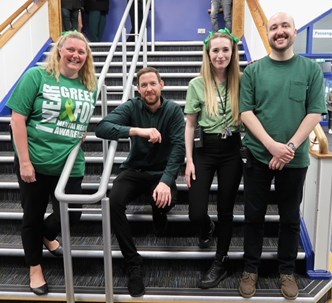 Has anything surprised you about working for a Stadia team?
Stephen: The overwhelmingly warm welcome I had from all the team!
Laura: When I first joined, I was surprised at how much really goes on in the background for the events we hold here.
Jade: The bonds you make with people, you can join, and you will meet friends for life. also, how when you are having a rubbish day there is always someone around to take your mind off it and make you smile.
If working in stadia interests and excites you, you're ready to join a fast paced, sociable environment and love to deliver hospitality at it's finest, then check out our current roles here!