Meet Rusen and Aleksandrina, two of our Content Associates at Entain.
Hi Aleksandrina and Rusen!
Tell us what's it like to be a Content Associate at Entain in Bulgaria? What's a typical day for you at work?
A: There is no typical day for the Professional Services Team.We are a team of in-house experts servicing various areas of the business including BetMGM. We provide consultancy, are involved in migration projects for newly launched businesses and we create learning content for Ops and Marketing teams.
The team consists of two mini-teams. First, we have our expert trainers for CRM, Sitecore and Martech tools.  
Based on their knowledge, I, Rusen and our colleague from Vienna Ionut Iova create visual and written content for internal use. It goes from describing new features and functionalities to introducing different teams and projects to the rest of Entain. It means we work with everybody and juggle many balls in the air!
R: Yeah, that's right! There is nothing typical in our team and this is the magic that makes our work so exciting. As my colleague Alex mentioned we create visual and written content which give us the opportunity to learn new things and also to be in touch with different teams across the company.
As a video content associate, I usually spend my time at work editing videos, creating animations or just opening 100 tabs in the browser in search of footage, graphics, music and everything that can help me to make the videos in the best ways possible.
What are the key skills required for your role?
A: Communication skills, being a grammar freak and creativity. I am taking care of the written content: newsletters, articles and script writing.
For example: we have a new original game concept called Well Well Well which proved to be big success for our Casino teams. I interview the team behind it, gather information and think about how to tell the story in a way that is interesting and relevant to everybody else at Entain. Then Rusen does his visual magic!
R: The ability to creatively interpret the provided information and materials is crucial when it comes to video creation. It's very important to have excellent knowledge about every aspect of the video production process and how to use the different tools for video editing, motion graphics, sound design, etc. Without the skills and the tools, your great ideas will just stay there in your head and will never come to life. If you want to make awesome and smooth videos you definitely need a good sense of aesthetics and rhythm. And last but not least - communication skills and teamwork. The combination of all of these will make your life as a video editor way easier or even possible.

How would you describe the culture in your team?
A: We are both close-knit and independent. Everybody does their thing and in the end we combine our efforts. Like Voltron! – the good robot composed of the space rockets of five different pilots working as a team! 
R: Yeah, Alex is right! We are like Voltron. Everyone in the team is super open-minded and a very good professional in their field so sometimes you just have to post a meme in the team's chat to form Voltron and the job is done.
Why did you choose Entain as a place to develop further your career?
A: The start-up culture of our team attracted me. I enjoy the security of working for a big business and the freedom (and fun) to experiment in my role and work with many areas of the business.
R: I chose Entain because I really liked the visual identity and the open-minded culture of the company and as a long-time freelance videographer I decided to try out how it would be to work in such a big structure like Entain. I really like the fact that our team is something like a start-up, which gives me the freedom to play around with different techniques and approaches, and to deliver relevant and useful content to the various areas of the business that PST provides service to.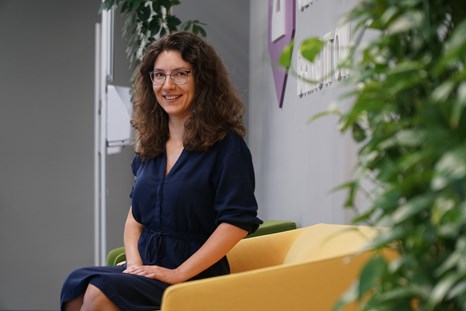 One of our pillars is Do What's Right. What does it mean to you and why is it so important?
A: Having a core set of values governs all other areas of life. With them, you know where you're going and why you're going there; without them, you just react to the circumstances. The basic moral compass is something that goes unnoticed but influences everything.
This is one of the reasons I was impressed with Entain. I'll admit I had my prejudices against the entertainment industry. However, they disappeared after learning about all the precautions we take to secure our players' wellbeing. We offer fun and excitement but also care.
R: I am really happy that one of the company's core values matches mine. To me, the meaning of Do What's Right is to strive to be a better human every day, to do my job to the best of my ability and to try to improve the environment around me as much as possible.
You are both storytellers. What 3 elements make a good story?
A: Honesty – tell the story as it is. Humour – add fun to spice it up (just a pinch!). Professionalism – do it in the best way possible.
R: Good content put into the right context glazed with a bit of humour or drama - this depends on the context.
 
Want to join our professional services team in Bulgaria or beyond? Check out all our roles here!