Get to know Carlos and David, Entain's Learning Team.
The Learning Team design and shape the Entain learning experience for all our colleagues across the world. Whether it's our Big Six mandatory learning or voluntary modules to feed your mind, the team makes sure everyone at Entain is expanding their horizons, reaching their potential and doing what's right for our industry.
We spoke to two of our Learning Team leaders on what it's like to drive how our Entainers develop their knowledge, reach their goals and take charge of their own careers.
What is your role here at Entain? Where are you based and what do you enjoy most about your job? 
C: My role is Online Learning Manager. I work at our newly refurbed Stratford office in London! What I enjoy the most about my job is working with my team and that my role affects the entire company, from retail to head office.
D: I am the Learning Experience Manager and I'm based in Tallin, Estonia, assigned to EnLabs, which is a recent Entain acquisition and part of our Baltic expansion! What I enjoy most about my role is the variety of projects we deal with; curating and developing content from every department and supporting stakeholders and designers while building eLearning.
What made you join and what keeps you here at Entain?
C.The hiring manager at the time, Sarah McCann, was amazing and I've stayed because developing Entain's Learning plan is an exciting challenge which has made me grow as a professional and as a person.
D: I joined Entain as it was an opportunity to be part of a global entertainment company and since joining, I have grown in confidence. As an advocate of agile learning, I have managed to grow immensely in 11 months. For example, I have just finished a Diploma in eLearning Design. 
I can blow my own trumpet a little as I was awarded a 'distinction'! I always suffered from imposter syndrome as I had accumulated skills in developing eLearning but had never had the time to formalise them, so I was especially pleased to get such a satisfying result.  I've also taken full advantage of the LinkedIn learning we are given access to and have completed numerous certificates. In this way, I can say I feel supported at Entain, and have benefitted from their learning and self-development culture. 
How would you describe the culture in your team?
C: My team is transparent, honest and goal-oriented.
D: Our team has a culture of targeted success. We set our goals and support each other in achieving them. We are also a team where you feel you are in a safe space where you can share any personal issues that may be happening around you. This is especially valid when you are predominately home based and lack that daily internal support network; we all need to vent some days and when you know your line manager and colleagues are good listeners and open to your real-world challenges, you understand that your work culture is amazing! They're driven and critical when needed, but a team you can reach out to no matter what challenges you are facing.
How has learning here at Entain evolved since you joined the company?
C: When I joined there was literally one compliance module for office colleagues (security awareness) and that was it. We now have a comprehensive range of self-service development options and a full suite of compliance modules for office colleagues. As far as retail goes, they've always been fantastic, but I feel they are much better supported these days in terms of reporting (Power BI) and delivery of learning content (Omnia).
D: When I joined, we had to review and develop a lot of legacy modules. We have spent the last 11 months improving our learning approaches. We have democratized learning design by implementing Articulate 360 licenses, training and supporting our colleagues, reviewing old modules and developing freelance designers and resources. I think we have had a rapid transition where the benefits have been felt across the company! From global inclusion training to leadership development and with the help of data, overall, we are evolving every month when we receive new projects and challenges.
#TheBigSix, so far it has been a great success with very impressive completion stats. What are the reasons behind this success?
C: Content consistency and accessibility (languages, etc) as colleagues have no surprises when they launch a module. Complete transparency of data through our dashboard. And, most importantly, senior management accountability!
D: Firstly, #TheBigSix success comes from a fully motivated team underpinning the drive towards achieving better completion rates. Then, a critical part of this success was the branding and leadership buy-in that stimulated completion. Finally, I would like to think that the design and learning experience also supported this success, which has taught us a lot about best practice in design as well as learning culture in multi nationals.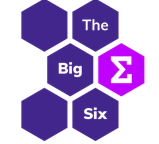 What have been your favourite and most challenging moments?
C: Favourite would have been completing my team when David joined last year. Most challenging would have been my first year at Ladbrokes Coral Group and acknowledging that our Academy at the time didn't remove colleagues who had left the company, which meant ALL, absolutely ALL, completion data was wrong! That took a long time to fix. 
D: That's a difficult one!One of my most challenging moments was realising that Figma was alien to me when it popped up in a project I was developing. I spent a whole weekend studying it, then did a course on LinkedIn to rectify this gap in my knowledge. Now, Figma is part of my go to concept design tools – it's brilliant! My favorite course moment would probably have been the one we built for 'global inclusion.' I worked with a very diverse and motivated team and left that project feeling I had learnt so very much about myself and what 'inclusion' really means. Moreover, I think we really built a course of modules and content to be proud of.
What advice would you give someone who is joining Entain?
C: The company is incredibly diverse in operations, locations, and role. Try not to get overwhelmed!
D: Be yourself. Set your own goals and organise your week properly. If you don't understand something, just reach out and get the support you need; use the learning tools open to you - don't wing it.
Pick one of our values and tell us what it means to you. 
C: I pick Win Together. We're a small team with massive goals and need to partner across the business to deliver Entain's needs.
D: I feel compelled to say 'educate stakeholders' but I want to be honest. I would say, for me, it is to be able to change ourselves for the better, so I would pick our value 'Do what's right'. Entain has been a place of change for me and I do believe, in our industry, if we aim for the betterment of all, this is a value I can fully support. We can do this by creating the best versions of ourselves to assure we build a service that is entertaining, rewarding, and the best experience it can possibly be for those customers looking for an exciting experience. We all change and grow through experience, so as education is all about change and betterment, that is my key motivational value.
Work life balance is very important. What do you enjoy doing in your spare time?
C: Long walks with my dog, playing electric guitar, and writing fiction (shorts and novels).
D: I enjoy writing music and sound production. I have a home studio because I was something of a rock God in a previous life! 😊 (well, my 20 something self thought I was anyway!). I am very happy composing a tune on guitar or keys and sharing songs with friends. I also love swimming, painting by numbers is a new hobby we like, walking and trying to build interactive games! I am a voracious reader, although I tend to listen more these days while walking around the town. I am old school though and love the smell and feel of a book in my hands in a café… you know, that sense of feeling all so intellectual and interesting in a crowded room.
Carlos, I know you are a huge Sporting Clube de Portugal fan. Where did the passion and support for the club and sport begin?
C: My namesake grandfather was a Sporting fan and I liked the colour green (Sporting) more than red (Benfica). Plus, I've grown to prefer underdogs.
David, I hear you like designing games as well as playing yourself, what is it about gaming that you enjoy so much?  
D: Aha! I get lost in games.I love survival games and often play ARK SURVIVAL if I want to totally switch off my brain and operate on primal instincts alone!! I am also fascinated by how these games are put together. I develop stuff in Unity where I am dreaming of creating an interactive learning experience.  Like a quest for knowledge linked to a meta universe… I know…. mad professor in the lab kicking in! It's incredibly time consuming but when you see a character you have built walk across a forest you have imagined, well, that's just ridiculously satisfying.
It's been brilliant getting to know both Carlos and David in terms of what they do, their experience here at Entain and a little more about them as people.
You can find out more on our 'Your Coach' page about our Learning Strategy at Entain and how we support all those that want to develop their knowledge and broaden their horizons while at work.
 Want to join the team? Check out our live roles here!