Relocation, relocation, relocation
Gibraltar is the rock-solid foundation of everything digital at Entain. Home to some of our biggest brands like Coral, Foxy, Gala and PartyPoker, there's no surprise that relocating to one of our offices in the sun is on a lot of peoples to do list.
Want to find out what taking the leap of relocation is really like? We spoke to some of our employees about their experience of relocating with Entain and their journey since!
Tell us about your life and work before relocating to Gibraltar?
Kat: I used to work in a senior role in Education Recruitment. The job was very long hours, very fast paced and a lot of my time outside of work was taken up speaking to people about how their day was in their placements. I really enjoyed it, but it was challenging, and after 4 years I decided to take a break and re-locate somewhere warm and take my time deciding what to do next.
Matt: I started working in a Coral shop in the UK back in 2012. I enjoyed 6 years of working across a few different shops in the north west, and then, when the opportunity came to apply for a job in Gibraltar in 2018, I took it. 
Was the plan always work abroad and what made you choose Gibraltar?
Kat: I had always wanted to try and live abroad but I never thought I would actually have the bottle to do it. I got to a point in my life where I realised how short it can be and decided to just go for it. I chose Gibraltar because I met an English person in Spain that told me he lived / worked there, and it sounded like a perfect option considering I didn't really speak any other languages.
Matt: Working abroad was always in the back of my mind, but I really enjoyed the industry and didn't want to leave it. When I realised I could have the best of both worlds by moving to Gibraltar, I knew it was the perfect option.

Tell us about your role at Entain?
Kat: When I first moved here, I did site experience for Coral which involved keeping the website up to date with relevant sports content, for example live sports and future events, which was really fun! Now I work in the Affiliate team. I negotiate deals with affiliate websites that promote our bingo products within the UK. It's a very social job which is something I really enjoy.
Matt: At the moment, I am a Marketing Optimisation Manager for Ladbrokes Coral Sports. It's a great job and involves test and learn process' to improve the customer journey.
Did you have any reservations about relocating to Gibraltar?
Kat: Yes, I had a car and a dog. I wasn't prepared to give up either, so I decided to drive here with my dog instead of flying, although it was a lot more expensive and time consuming. I was very nervous about the journey, but it ended up being an amazing experience, it was a beautiful drive and the roads are very quiet. Another concern was my ability to speak Spanish. You don't necessarily need it in Gibraltar however as I wanted to live in Spain, that put me off slightly. What I have found though, is that the locals are really friendly and want to help you learn if you are putting the effort in.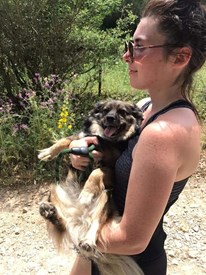 Matt: My main concern was that it would be hard moving away from friends and family. But, as I've now realised, it's only a short flight back to the UK, so easy enough to visit a couple of times a year!
How did Entain support you with the process of relocating to Gibraltar?
Kat: Entain were really helpful! I received recommendations for a lot of things such as estate agents, where to visit, even places that would look after my dog if I needed. I managed to settle in quite quickly.
Matt: Entain we're really supportive. They paid for flights, put me up in an apartment for a week and paid my first 3 months' rent in Spain. They also put on plenty of social events so it's easy to meet new people.
What do you love most about life in Gibraltar?
Kat: The weather and the social life. Both things are really important for me and this is the perfect place for it. Entain is a very social company, with a lot of activities regularly going on. Everyone here is really friendly too, it doesn't take long to make new friends. One of my favourite things is that you can be yourself and feel comfortable, it's not very judgemental at all.  
Matt: Sun, sea, the people, the work/life balance and of course the bobbies.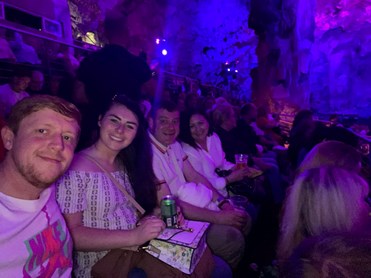 What advice would you give to someone who is interested in relocating to Gibraltar?
Kat: Just go for it. You can try it and if you don't like it you can always go back. I'm happy to speak to anyone who wants to know a bit more!
Matt: Just do it!
If you want to find out more about how Entain will support your relocation journey, read our interactive booklet here.
And if you're looking for a new exciting role with one of our teams in Gibraltar, we have plenty of live roles here!