The Cybersecurity team at Entain
Working in our Cybersecurity team means working in a dynamic, action-packed and ever-changing environment. Thinking of taking your next step in the world of cybersecurity? Our security leadership team told us why joining the challenge of Entain's cybersecurity efforts should be your next move! 
What is so great about working in the Cybersecurity team?
Cybersecurity is an extremely dynamic area, with new developments nearly every week. This allows us to come up with fresh ideas and ways to help Entain solve cybersecurity problems using an out-of-the-box approach. These challenges keep us on our toes, with the various branches of our team contributing to the best possible long-term solutions. 
Because the team is responsible for cybersecurity across all Entain business units around the world, there is never a shortage of challenges to solve. As we closely track our work with the company business objectives, it is easy to see how your individual contributions directly impact the company success. 
What type of roles and opportunities do you offer in your team? 
Our team is comprised of various groups of individuals that focus on three main areas:
Application Security look at how we can make the applications that we offer our customers more secure. Entain develops most of the software that our customers use to play with us, so our ability to influence and incorporate security during development is unmatched.


Security Operations oversee detecting gaps in our security approach and correcting them through proactive architectural improvements, continuous security testing and incident investigation and response, including an in-house Security Operations Centre and state-of-the-art tools. 
 
Our Technical Compliance team monitors the effectiveness of our security controls and adapts them to make sure we meet the requirements of our various stakeholders (the Entain board, international regulators, B2B partners, the ISO, PCI, and others).
Here are some of our available roles:
Security Operations Center Analyst – Tier 3 
What type of individual do you look for when hiring in your team? 
While the team has a variety of roles on offer, the thing that we all have in common is a passion for cybersecurity, which helps us come up with innovative ways of solving the cybersecurity challenges Entain faces. We look for individuals with very diverse backgrounds – developers, IT systems administrators, security Architects, IT auditors, legal practitioners, security testers, SOC analysts – that bring an inquisitive mind and an attitude and willingness to share their knowledge, so that the whole team benefits from one another. 
We generally look for people with previous experience in cybersecurity, however, we also have some team members whose first foray into the area has been with our team and who are now cybersecurity experts thanks to upskilling. This is done through both knowledge sharing across the team and professional training that the company invests in.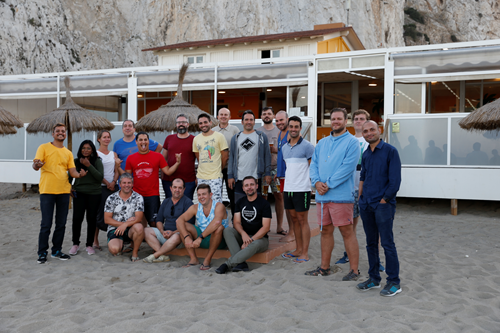 What are some exciting projects happening in the Cybersecurity team at the moment?
Things that are keeping us busy now are the rollout of cybersecurity to our newly regulated environments in the US, the integration of a few recent acquisitions by the company in the areas of e-sports and social gaming, and the increase in automation of some of our key incident response tools. 
Which projects are the team most proud of working on? 
We like to highlight projects that have a lasting impact on our organisation, such as an early warning system for cybersecurity attacks, our automated security pipelines in development, our security audit programme and our bug bounty recognition for security researchers.  
 
We also wouldn't want to forget initiatives that help make the world a better and more secure place, such as our contributions to open-source projects, talks on cybersecurity, and contributions to improving security processes across the gaming sector.  
What advice would you give to someone new joining the team? 
Don't be afraid to take enough time to understand and think through anything you are working on. Cybersecurity is a subject so wide that it can sometimes be daunting – there is always plenty to do, and frustration can sometimes settle in. We understand that and have aligned our efforts with the business requirements so that we always ensure that all the time we put into our work is reflected directly in how the company is performing. You can see on a day-to-day basis how you contribute to the organisation. 
What makes your team at Entain different from other organisations? 
Anyone can read a book on cybersecurity and start providing advice on best practices. We strongly believe that cybersecurity only works when it is deeply embedded into the organisation. Therefore, our team needs a very deep understanding of the business so that we can support it effectively. Our team is encouraged to think and adapt their knowledge to the organisation so that we truly offer innovative security solutions. 
 
We have hundreds of applications that are developed in-house, distributed over tens of datacentres and operated both in a digital and retail environment. If it's an interesting challenge you are after, look no further. 
We are a group of passionate cybersecurity professionals where everyone contributes to the result, where our senior leadership has been promoted from within and where we keep a great team atmosphere through collaboration, shared learning, fun and success. 
Want to join the team? Check out our live roles here!