Entain Careers Privacy Notice (EU, Uruguay, Jersey and Canada)
Introduction
This Privacy Notice (the ''Notice'') aims to inform you about how we gather, process, and protect your personal data when you apply for jobs at Entain group companies (''Entain''). The Notice details on what data we collect from you directly, other parties, how we use it, the purposes, who we share it with, how we justify the processing (i.e., the legal basis) and how long we retain it.
We process personal data in accordance with the General Data Protection Regulation (''GDPR''), and any country specific applicable data protection legislation.
This Notice does not form part of any contract of employment or other contracts to provide services. The Notice applies only to job applicants for the duration of the recruitment process. Applicants that are offered a role are subject to Entain Employees Privacy Notice.
Definition of personal data
For the purposes of this Notice, personal data is any information that relates to an identifiable individual, and sensitive personal data, include information related to race, ethnic origin, political opinions, religion, trade union membership, genetics, biometrics (where used for unique identification purposes e.g., fingerprints), health and sex orientation or behaviour, which require a higher level of protection.
We will only process special categories of personal data in the following circumstances:
With your explicit consent;
Where we need to carry out our legal obligations or exercise our rights in connection with the recruitment process;
Where it is needed in the public interest, such as for equal opportunities monitoring;
Where, in some exceptional cases, we need to protect your vital interest (or that of another person);
Where it is necessary for the establishment, exercise or defence of legal claims;
Where it is necessary for the purposes of occupational medicine or the assessment of your working capacity, or to administer benefits.
If we approach you for consent to allow us to process sensitive personal data, we will give you full details of the information sought and the reasons we need it, so that you can make an informed decision as to whether you consent.  
Information we collect from you and why
We collect information directly from you throughout the application and recruitment process, when you register and apply for vacancies on the careers section of our website. However, we may also collect information about you from third parties, such as individuals who you provide as references, recruitment agencies, background check providers (where criminal or other pre-employment checks may be undertaken). We only use this information in line with this Notice and privacy commitments of the Entain Group.
The below table provides you with an overview of the data we collect for the duration of the recruitment process and prior to entering into an employment contract. The information detailed below may vary depending on the role or the country where you are applying for a role at Entain.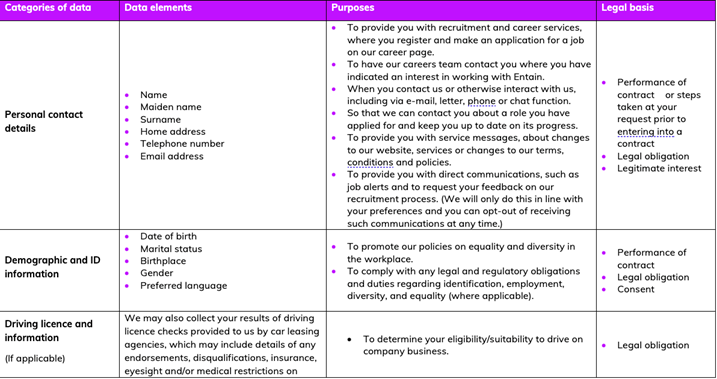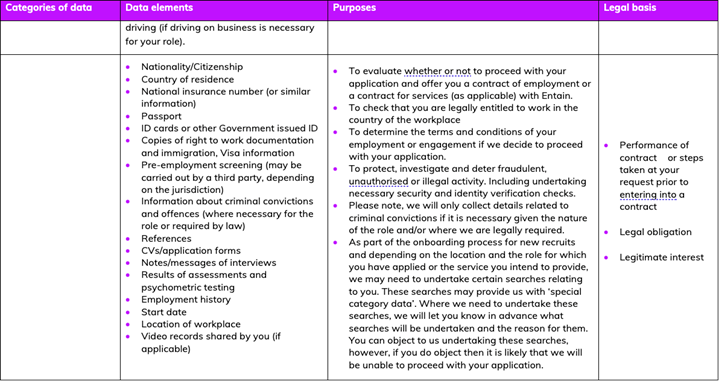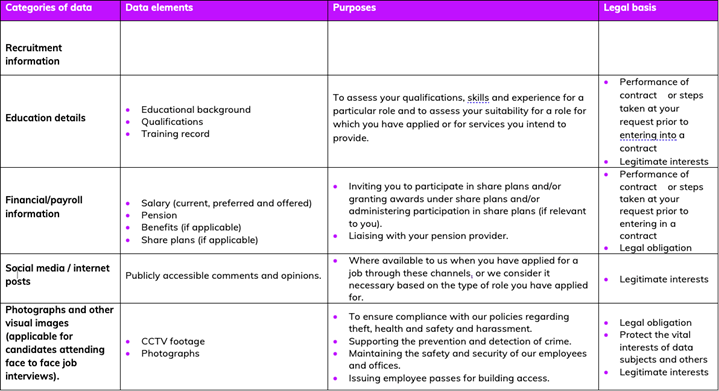 Where we rely on legitimate interest as a ground for processing your information, we carry out a 'balancing test' to ensure that our processing is necessary and that your fundamental rights of privacy are not outweighed by our legitimate interests, before we go ahead with such processing. We keep a record of these balancing tests.
Where we are processing data based on your consent, you have the right to withdraw that consent at any time. You should be aware that, depending on the context, this could result in the company being unable to perform some elements of pre-employment checks (when legally required).
Who we share your data with
We will only disclose information about you internally to hiring managers, HR and, in some circumstances other employees . Other than as mentioned in this Notice we shall only disclose your information to third parties if we are legally obliged to do so or where we need to comply with any pre-contractual duties to you, which may include:
Any Entain Group company;
Professional advisers, such as our accounting and legal advisers, where require this information to provide advice to Entain;
Third-party service providers who provide products or services to Entain, including recruiting companies, trusted third-party suppliers of information verification services for the purposes of validating the information you provide to us in the course of interacting with us or entering into a contract with us;
Trusted third-party suppliers of email distribution services for the purposes of sending you job alerts in accordance with your preferences.
All of our third-party providers are required to take appropriate security measures to protect your personal data in line with this Notice. We do not allow our third-party providers to use your data for their own purposes.
Data Transfers
Entain is a global organisation, headquartered in the United Kingdom and Gibraltar. To ensure the provision of effective and efficient services and communication throughout the Group, we may be required to transfer some of your personal data between our international offices, including places outside of the European Economic Area (EEA), Gibraltar and the UK, in countries that may have different data protection laws.
However, we will only transfer your personal data outside these locations where appropriate safeguards have been put in place and to comply with the GDPR and any country specific applicable data protection legislation.
How long we store your data for
The period for which we may retain personal data about you will depend on the purposes for which these were collected, whether you have withdrawn your consent, and whether any legal obligations require the retention of the personal data (for example, for regulatory compliance). After the expiration of the retention period, personal data will be securely deleted/destroyed in accordance with our data retention policies and procedures.
Monitoring
In the course of conducting our business, we may monitor our premises and property as well as email and telephone communications.
For example, potential future employees may have their communications recorded and monitored when communicating with an Entain employee in the recruitment team regarding a job role. In such cases, the candidates shall be informed in advance.
Another example is where visitors attend a job interview at one of our office locations, some of which are equipped with surveillance cameras for the purposes of protecting employees and third parties against theft, vandalism and damage to Entain goods and ​property. ​Recorded images are routinely deleted (in line with our data retention policy) and not shared with third parties unless there is suspicion of a crime, in which case it may be turned over to the police or other appropriate government agency or authority. In such cases, the necessary CCTV notices are displayed on our premises.
This section is not meant to suggest that all potential future employees will in fact be monitored or their actions are subject to constant surveillance. It is meant to bring to your attention the fact that such monitoring may occur and may result in the collection of personal data from potential future employees, as described above.
How we protect your data
Entain takes the security of your personal data very seriously, therefore we have put in place internal controls and security measures to protect it from accidental loss, unauthorised access, use, alteration and disclosure, e.g., secure firewalled datacentres, certified encrypted webpages and ISO27001:2013 certified business practices.
Access to your personal data is restricted to employees, workers and agents who strictly need this information to perform their role on a "need-to-know" basis. We take steps to ensure that third parties who have access to your personal data only process it on our instructions and are subject to a duty of strict confidentiality.
Your privacy rights
Under the GDPR, you have a number of rights regarding your personal data. You can exercise these rights by sending an email at  Dataprotection@entaingroup.com, who may also liaise with the local Entain HR team as necessary.  These rights include: 
 

Description of Right

Access to your information

You have the right to request a copy of your personal data. All requests will be dealt as required by applicable law. In most cases we process only the data that you shared with us, or upload on our career's portal.

Right to be informed

 

You have the right to be provided with clear, transparent and easily understandable information about how we use your personal data and your rights; this is why we are providing you with the information in this Notice.

Correcting your information

Where we hold information about you that is inaccurate or incomplete, you have the right to ask us to rectify or complete it

Erasure of your information

You have the right to request erasure of the personal data Entain holds about you. There are, however, certain situations where processing is necessary and exempt from erasure, such as compliance with a legal obligation or the establishment, exercise or defence of legal claims.

Restriction of processing

In certain circumstances, a right to restrict our processing of personal data held by us about you.  This right will only apply where (for example): you dispute the accuracy of the personal data held by us; or where you would have the right to require us to erase the personal data but would prefer that our processing is restricted instead; or where we no longer need to use the personal data to achieve the purpose we collected it for, but you require the data for the purposes of  exercise or defence of legal claims.

Right to data portability

You have the right to obtain your personal data that we hold in a structured, commonly used, and machine-readable format. You can also request that we transmit this personal data directly to another controller. However, the right to data portability only applies when your lawful basis for processing this information is consent or for the performance of a contract; and you are carrying out the processing by automated means (i.e. excluding paper files)..

Right to withdraw your consent

A right to withdraw your consent, where we are relying on it to use your personal data (for example, to provide you with information about new available roles). 

Right to make a complaint

You may contact Dataprotection@entaingroup.com  if you wish to make a complaint.You can also file a complaint to your local Data Protection Authority about any matter concerning your personal data.However, we take our obligations seriously, so if you have any questions or concerns, we encourage you to raise them with us first, and we shall endeavour to resolve them.
Automated decision-making information
We use automated decision-making in the recruitment process to enable us to pre-select and make a long-list of candidates which are then subject to review to produce a short-list. We only use this automated decision-making to identify applications that would not be able to proceed for a legal reason, including where the applicant is under the age of 18 or has previously self-excluded from a betting shop, casino or online betting site. As a result, if you identify on your application that you are under 18, or you have previously self-excluded, your application will automatically be rejected.
Cookies           
We use cookies for various purposes including making your experience of our website better. For more information on our use of cookies, please see our Cookies Notice.
Changes to this notice
Any changes to this Notice in the future will be posted on this page, and where appropriate, notified to you by email. Please check back frequently to see any updates or changes to this privacy policy.
This privacy notice was last reviewed April 2022.