The west-coast Ladbrokes shop is Scotland's Community Betting Shop of the Year 2018...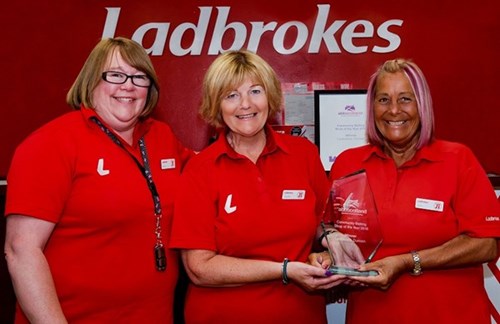 They are best described as a small team with a big heart – and certainly for the residents of Dunoon and beyond, it would be hard to imagine life without their local Ladbrokes.
But the team's generous efforts to support their local community and various charities have now seen them win some much-deserved recognition on a nationwide scale, with the Association of British Bookmakers' (ABB) honouring Dunoon with Scotland's first ever Community Betting Shop of the Year award.
Set on a peninsula – where the easiest way to travel is by ferry and the next closest Ladbrokes shop is two hours away – Dunoon's 9,000 residents typically rely on each other for support.
With all but one of the six colleagues born in this remote town, the Ladbrokes team play a major role in the community, welcoming regulars into the Moir Street shop on a daily basis.
"I think what's so heartwarming about Dunoon is that the team always take time to chat with their customers and visitors around the usual business of taking bets," says Area Manager Sheila Smith. "So you'll often find that if a customer hasn't been seen for a few days, someone from the shop will telephone and check in with them to see if they need any help. That really means a lot to people."
And then, of course, there's the team's amazing charity work – both during and out of hours...
Shop manager Lucy Richmond and Marketplace Manager Caroline Guchine have spearheaded more than 19 race nights so far in 2018, plus activities such as a 'chain-gang' to collect money, raising more than £10,000 in the process.
In 2017, they were instrumental in collecting more than £35,000 for Glasgow Children's Hospital Charity, working alongside other shops in the region. This has all led to the team being inundated with letters of thanks from various charities, which are proudly displayed in the shop.
As part of their win, Dunoon have been awarded £500. And, in keeping with the spirit of their fundraising, they've opted to divide this equally between five local charities: Crossroads, Clasp, Befrienders, Velvet Path and the Red Cross.
"In spite of there being over 400 shops in this region, Dunoon was an obvious candidate for nomination," Sheila continues. "It's lovely to see the time the team invest in everything, and the support they receive from the community in return. I'm immensely proud of them all."
Lucy admits that the award came as a surprise. She says: "I'm overwhelmed – it's fabulous. I started work here when I was 18, so I've been brought up with a lot of our customers. I'm due to retire in September after 40 years of service, so this is a chance to go out with a bang!"
"Our customers are so generous. We go that extra mile for them, and that's what makes this job so special. It's a great community" - Caroline Guchine, MPM, Dunoon"