Meet Yui, Our Data Analyst
"The organisation seems to have absorbed the cultural dynamics and new resources during the various transitions, but I think it has maintained the original feel of open communication."
We recently sat down with Entain veteran, Yui, to discuss life as a Data Analyst working in our Dublin office.
Tell us a little bit about your role.
I'm a Data Analyst. My role involves anything to do with data, I'm a bit like a data gatekeeper! I'm involved in the publishing of regular essential business reports and performance dashboards across all areas, as well as in the collating and analysis of data on specific areas such as product trends, customer segments and promotion impacts. There is also another aspect which is more around improving our general data environment – regular testing and monitoring for data integrity, providing self-sufficient reporting platforms to key stakeholders, collating a data dictionary and running internal training.  
My team was formed in 2013 after Betdaq became part of Ladbrokes. Since then, a big project on restructuring the data warehouse has been completed and we have gained better access to an enormous amount of data. This has enabled our team to dive deeper and provide more insightful analysis.
What's your journey with the company been like?
I've been in this role since 2013 but reached the landmark of 19 years at Entain in June this year!
When I joined in 2001, Betdaq was only a start-up company preparing for to launch later that year, with the goal of becoming fully operational by the time of the World Cup in Japan and South Korea. I'd only been in Ireland for two years at the time and had little understanding of the gambling sector.  However, I found it fascinating to be involved in the creation of this new business model of a betting exchange and to be part of the experimental journey, especially with a big event taking place in my home country.
Betdaq has expanded from a small, cosy group of less than 30 colleagues to nearer 100 over the years. The biggest change was in 2013 when it became part of the Ladbrokes group, which was followed by Ladbrokes Coral, then Entain. The organisation seems to have absorbed the cultural dynamics and new resources during the various transitions, but I think it has maintained the original feel of open communication.
What's kept you at Entain for so long?
Having gone through a major career transition from Operations Supervisor to becoming a Data Analyst, it still feels fresh and exciting after many, many years! Betdaq and Entain have never held me back from exploring new skills to enable me to do my job better. In addition, to be surrounded by good people with great personalities is very addictive!
What have been your highlights since joining us?
There have been many highlights, including landing in my current role as Data Analyst. I have been lucky enough to work in many different areas with Entain and have made a lot of friends along the way. One particular highlight was celebrating my ten-year anniversary at Betdaq's tenth birthday party, which was held at the Guinness factory. Receiving a certificate that I can pour the perfect pint of Guinness was a brilliant addition to my career!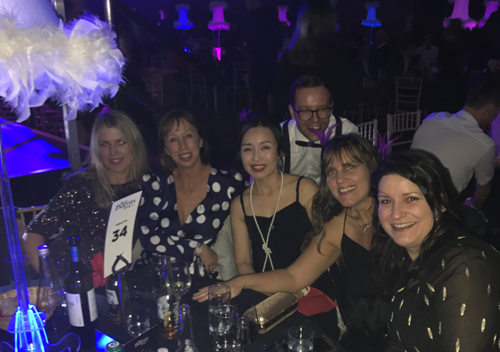 What are the key skills for a Data Analyst?
As for technical skills, experience with Advanced Excel, SQL programs and data visualisation tools, such as Power BI and Tableau, is beneficial. You need to have a good understanding of the products to figure out how to best utilise their tools, as well as strong communication skills, a passion for finding answers… and a generous amount of patience!
Tell us about life in the Entain offices in Dublin.
Our Dublin office has a good, vibrant feel as you walk in. It overlooks the River Liffey and looks even better when the sun comes out. The culture is hard-working yet fun-loving, with a bit of good old Irish sarcasm. The sports and social committee make a fantastic effort to organise great events throughout the year.