Meet Simon, Our Content Manager
Simon is our very talented Content Manager, currently working in our Vienna office but he has a pretty impressive hobby outside of life at Entain...
We caught up with Simon who told us all about about his life at Entain, and his bucket lists beyond this!
So Simon, how long have you worked here and what's your role at Entain?
I joined the company in March 2015 and came directly into the Vienna office. It was quite a change for me, moving from Gloucester, a small city in South-West England, to a big capital city like Vienna. I started out as an English Copywriter for my first 18 months, now for the past three and a bit years I have been the Content Manager in the Central and Eastern Europe region, which has been a real pleasure.
I've basically been a one-man content team writing all the newsletters, daily updates, compiling sports promotions and everything else that we do in the region, along with checking every other little bit of English content that we send out too! However, right now is a period of change for me, as I started a new role as a Content Editor in early December.
What's life like working in Entain's Vienna office?
It's brilliant. I love it, I really do. It's such a great office in such a great location. It's next to one of the main transport hubs in the city so it's very easy to get to work, the restaurants around the office are superb, and the office itself is modern. The rooftop terrace is a great place to hang out too and we have plenty of great events there each year! My favourite thing is the Christmas party, the company always smashes it with the locations and it's a great way of thanking the employees for the year. Oh, and the free coffee and tea is always a plus!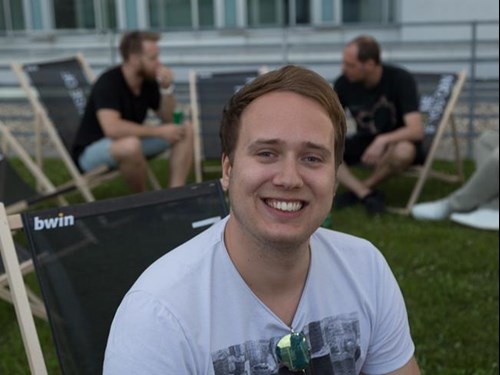 Apart from the office and beautiful city, what do you enjoy most about your current role?
Definitely the people. I have been in a really friendly room for the past three years, and everyone in the team is just lovely. Also, the fact that I was able to have a real creative input and be trusted that the content I produced was of the highest quality.
Outside of work, we hear that you've visited almost 200 football grounds?! How did this come about, and how do you keep track?
To be fair, I've visited more! I've seen a live game at 196 (as of right now!). My dad is a football nut and passed his love of the game on to both of his sons, in particular his love for Gloucester City – our local team. Every Saturday as a child was spent on the terraces at the old Meadow Park with my dad and my brother and, when I was old enough, we started going to different away grounds too. I went to university to study Sport Journalism and I think it was here that it really dawned on me how many grounds I'd already been to when I started chatting to fellow students, so I started making a list.
Post-university I was a sport journalist, so I was able to tick off quite a few notable grounds via my media credentials, so this padded the number quite a bit too. I've kept it going in my time in Vienna too as I co-host an English-language Austrian football podcast called 'The Other Bundesliga', which has allowed us to get accreditation for all Austrian Bundesliga games, and Champions League and Europa League matches in Austria. On top of that, there' the multiple European weekenders I do with mates every year to different countries and grounds. It's all added up.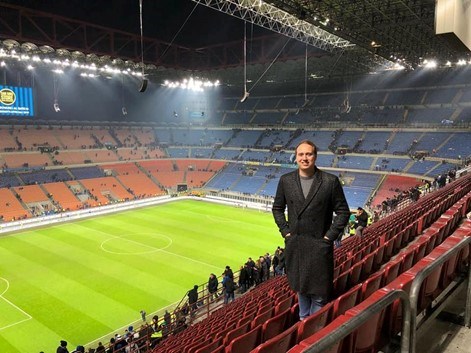 Okay, we have to ask, which are your favourite/least favourite stadiums and why?
How long do you have? It's almost impossible to rank because so many have left a lasting impression! I'm an Everton fan so Goodison Park has a special place in my heart. It is one of the last remaining great old English football grounds. The Luzhniki Stadium in Moscow took my breath away, as did the San Siro in Milan, Berlin's Olympiastadion and Barcelona's Camp Nou. I was lucky enough to watch the Euro 2016 final at the Stade de France – so that was very special. Also, a shout out to Fulham's Craven Cottage, Aston Villa's Villa Park and, of course, Borussia Dortmund's Signal Iduna Park.
Least favourite? Anfield was a tough one (for obvious reasons!), Watford's Vicarage Road isn't great and Bologna's Stadio Renato Dall'Ara was open air, rained the entire game, and finished 0-0. I went to some terrible grounds as a teenager following Gloucester City – far too many to name.
When and where will you visiting your 200th stadium?
It'll be coming up shortly! I'm only four away from the big 200. I booked a holiday to Barcelona in November with the idea of the Camp Nou being the 200th, but it was only 196th because I had too many non-football weekends beforehand – I guess my girlfriend was pleased with that! I have no idea where it'll be – but I guess it'll be somewhere random and nowhere near as glamourous as Barcelona.
Do you have a stadium bucket list then?
For sure! The only major English grounds I haven't visited are the new Tottenham Hotspur Stadium, Stamford Bridge and Emirates Stadium – so a London weekender is in order soon. Around Europe, Real Madrid's Santiago Bernabeu and Valencia's Mestalla are top of the list, alongside Rome's Stadio Olimpico. Globally, the Maracana in Rio, La Monumental and La Bombonera in Buenos Aires and the Azteca in Mexico City. It's going to be expensive…
Final question, as it's at the heart of everything we do at Entain, what does 'For the good of entertainment' mean to you?
I think that it means a lot of things. Personally, I like the fact that I am involved with a company that is so ambitious, with a real ethos of creating exciting content, games and experiences for both the employees and the customers. I'm definitely someone who likes to be challenged and I think this is the perfect company to grow in!