Meet Nikola, our Media Buying Manager
Are you fed up with the bleak British weather and want to be exposed to 300 days of beautiful weather?
We are recruiting in Gibraltar and looking for passionate individuals who are looking for a new and exciting adventure! We caught up with Nikola who has recently joined us as a Media Buying Manager to discuss all things career growth, living in Spain and her beautiful Podenco dog.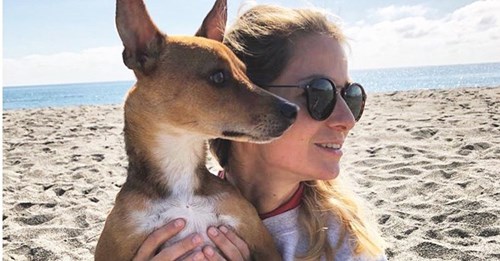 Hi Nikola! What is your role in Performance Marketing department?
I have just recently joined as Media Buying Manager.
Why did you decide to join us?
I was looking for the next challenge and career growth opportunity. In Ladbrokes Coral you get to work with some very talented people from who you can learn a lot. You get to work with impressive marketing budgets and the company culture is also great and well known for their friendly and sociable environment.
What it was like for you to relocate over to Gibraltar for a new job?
Before joining Ladbrokes Coral, I was already working at one of the competitors in Gibraltar. However, I'll never forget my relocation 4 years ago. I was positively surprised by the cultural mix you can find in here. It's also very good place for your professional career growth and development. Back then I chose to live on the Spanish side of the border where I am living until now. I definitely don't regret the move and I would recommend anyone do it especially if you are looking for a new challenge.
How long does the commute take you and what's your go-to playlist?
As I am living in Spain, my commute usually takes 20 minutes driving and then additional 20 minutes walking from the boarder to the office. My playlist depends on my mood and it's very broad. It consists of absolutely everything from pop, R'n'B & rap to electro music tracks.
Current Netflix obsession?
Disenchantment
Tell me a little bit more about the Performance Marketing team?
The whole team hasn't been yet recruited but I can already share with you that it will consist of highly motivated and results driven individuals with a passion for digital marketing, who want to make a difference.
What are you looking for in an ideal candidate?
I am looking for someone with passion for Digital Marketing and with Media Buying Experience. The candidate should be an effective communicator, self-motivated and a team-oriented individual with a positive attitude. We require good Excel knowledge and previous hands on experience with Gemini and Taboola would be plus as well.
What does a typical day look like for a Media Buying Executive?
You start your day with reviewing and reporting on any active campaigns. You get to talk with the partners a lot so an outgoing personality is a must. Throughout the day you co-operate with various teams – from Creative & Compliance to the Finance team. However, there is always a time to research and identify industry trends and new advertising opportunities.
What is a fun fact about yourself?
I am a proud mum of a rescued Podenco dog so I often tend to 'annoy' my colleagues by showing his photos and sharing a funny stories about him!
What are the offices like?
The offices are huge and they are just undertaking an extensive refurbishment so it will be even better.
What is your one piece of advice for anyone interested in joining us?
Don't doubt yourself and apply! Come and sweep us of our feet with your brilliance and positivity! This could be a professional change you could've been yearning for, for a while now. The company offers really good international mix of the employees and on the top of it you can enjoy warm and sunny weather almost all year round.
Want to join Nikola's team as a Media Buying Executive? We are currently recruiting within the Product Marketing team. Take a look at the jobs here.