Meet Matty, Our Global Learning Design Manager
"Being able to bring my whole self to work, without giving energy to fear or worry, has enabled me to accelerate my career in a way that I haven't been able to do elsewhere."
Meet Matty as we discuss Entain's global learning ambitions and the importance of an inclusive workplace culture.
Tell us a little bit about yourself.
I'm the Global Learning Design Manager and I've worked at Entain for 3 years.
My team look at all learning solutions for the Group – we research, design and build learning, ensuring a consistent and high-quality experience for all our people.
My team fall under the Talent, Development & Resourcing umbrella, where Inclusion also sits. For the past few years, I've worked with our Inclusion Manager in an advisory capacity to help start us off on our LGBTQ+ journey. This has included everything from starting a global network and finding reps to hosting our first ever Pride events.
What has your experience been like since joining Entain?
I'm now on my sixth role in three years at Entain (all for positive reasons!), my development has been heavily invested in and I've had some great mentors.
I joined as an HR Coordinator in summer 2017 just as the Ladbrokes and Coral brands were merging. I had it firmly in my mind that a Learning role was where I was headed but they're not easy to come by with no prior HR or Learning & Development (L&D) experience. I figured I'd accept this job, do it for a year and then use it to go onto other things. Three months in I was asked to design a new HR Shared Services induction and help the team with expanding.
I did that for a couple of months before arriving at my desk one day to find a note from the Resourcing team telling me of an open L&D Coordinator role and asking if I would like to put myself forward for it. I started three weeks later! From there I was promoted to L&D Advisor and then to Management Development Manager, the role I have today – it's been quite the ride!
When I joined Entain I had no intention of staying long-term at all, I saw it as a stepping stone onto other things, but the longer I stay here the more it feels like home. The people we have and the quality of the work we deliver, and the pace we deliver it at, is what gets me out of bed in the morning. I do really feel like I belong.
During Pride month, it's key for us all to widen our understanding. What are some of the obstacles the LBGTQ+ community face when starting a new role?
For me, the biggest worry if that a lot of people seem to think there are no more worries or obstacles at all. In my experience, members of the community are speaking up less about the daily difficulties they face because everything must be a debate for 'balance'. Others create the problems but then look to us to advise on how to fix them. Debating the right to simply exist safely as yourself can be incredibly exhausting.
I don't think a heterosexual person has often needed to consider whether their new workplace will be safe for them to be open about themselves before they join it. It's a thought that crosses every single LGBTQ+ person's mind. You never really stop coming out at work, whenever you meet a new person it's always a consideration; If I tell them, will it be okay? Will I be ridiculed? Will I be excluded? Will people in positions of power make it difficult for me to progress? Will I be safe? These are all questions that cross my mind. There are so many worries and they're so different for you depending on how you identify.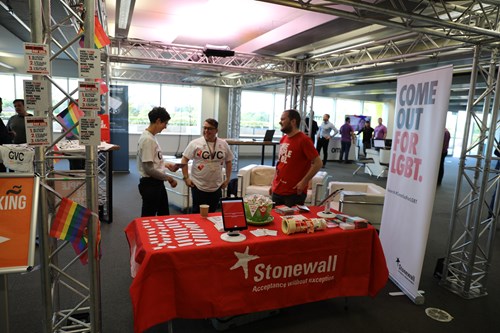 In the UK, people know that you're legally protected and they see Pride events happening so think everything is fine, often quite oblivious to the reality. It's still dangerous for gay couples to walk down the street holding hands with a partner, there's still rampant bi-phobia where people are told they're "greedy" or it's "just a phase". We're still told "we have no problem with you we just don't want your lifestyle shoved in our faces" and we're still seeing daily attempts to remove protections for our Trans community.
Often companies are very well-intentioned and support initiatives such as Pride events but they lack the substance to make their own people feel safe. Putting a rainbow on your website might do some good but having a robust inclusion strategy that's led by the community, a zero tolerance policy for abuse, a safe space for people to speak up and action be taken, and trained managers that understand how to support often complex situations is better.
How did you feel when you joined Entain?
Honestly, I was nervous. All I really knew about the company was the environment of a Ladbrokes shop that I'd go to with my dad when I was a small child, which wasn't the most inclusive experience. I'd read a few reviews online who had talked about a "boys' club" where all people cared about was money and sports. I remember I had decided to "be closeted" during the hiring process and the sheer sense of relief I had when I walked into the Nottingham office for my first interview and saw so many women. There were people of all ages and ethnicities and some of my worries immediately eased.
At Entain, we are constantly working to on our inclusion strategy, to make this a place where everyone can be their authentic selves. Has anything changed in your time here?
Since I joined, I've seen the business significantly invest in Inclusion. They've increased headcount, budget and the importance of it as a topic is discussed at exec board level. I also see our CEO mention it in his company addresses – how important he feels it is that no matter your background there is a place for you at Entain. Senior voices are so important.
For the LGBTQ+ strand of the inclusion strategy, it's led by somebody who's actually a member of the community which I think makes a big difference. We're all invited to be a part of shaping what it should look like without limitation.
I see us focussing not just on the 5% of people that care about inclusion (which I think is a trap a lot of organisations fall into), but also looking at actively reaching the 95% of people that are perhaps not aware of why this is such important work and how they can be a part of it. We're in our infancy, we're not pretending we've got all the answers or to have it nailed, but I think it's striving for the right things and being guided by the right thinking.
How would you describe the Entain culture?
When I think of Entain, the first word I think of is fast! People think they've worked for busy organisations and then they come here and it's a whole different ball game. What we manage to deliver and the pace at which we deliver it is amazing.
As a gay man, what I love about the culture here is that it's talked about. In previous companies I think people have, with all the best intentions, tried to show it's not a big deal by simply not talking about it. And that's sometimes nice, I want to be recognised for the work I do not by how I identify. However, it does then mean that the difficult stuff isn't talked about either and a culture of silence can develop.
At Entain, being gay is not a significant part of who I am, but it is a part of who I am, and a celebrated part. Being able to bring my whole self to work, without giving energy to fear or worry, has enabled me to accelerate my career in a way that I haven't been able to do elsewhere.
Which of our values have you witnessed in action the most?
I have to pick one?! Because our values were built from hours of conversations with our people, and not just thrust upon to the organisation by a set of senior managers from an ivory tower, I see them all, all the time! They're who we are and how we work.
My personal favourite is Bring It On, because I really don't see us do 'average' here. Everybody is always really up for doing more than just their job spec, they want to be part of something big, and they are. I remember at the launch event for our values, our CTO said "I feel like if Kenny asked us to send a rocket to the moon we'd find a way to do it", and he's not wrong. He could have requested volunteers there and then and I think most hands in the room would have been raised. Bring It On.