Meet Markus: Casino VIP Associate
"It is just so much fun to work together, with different cultures and people from all around the globe."
We caught up with Markus, VIP Casino Associate in our Vienna office, whose life outside of work is filled with music a descendant of Franz Schubert...
Could you tell us a little about your journey within the company?
I've been working for Entain for more than two years now.​ It all started in Customer Service. I've always been driven to helping people, so starting in customer support was my way to go. Nevertheless, I was very interested in progressing. So, I started having a look at other opportunities offered by the company and I got accepted for the Casino VIP Associate role, which I started at the beginning of April this year. My new role is a great mix of sales and VIP customer support.
What's life like working in Entain's Vienna office?
Working in the Vienna office is a blast. When I entered the building on my very first day I felt like, "Boom, this is how they all feel in Hollywood movies"! I was really proud of myself and I feel this pride on a daily basis. It is just so much fun to work together, with different cultures and people from all around the globe. The Vienna office is basically a big family, and I am grateful to be a part of it.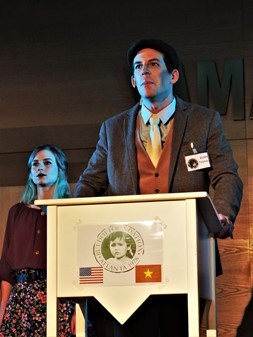 Outside of work, we hear that you are producing musical showcases and short movies. How did this come about?
Well, what you have to know is that music is my heritage. I am a descendant of the famous Austrian composer Franz Schubert and music was literally part of my life since I could walk. I started playing the piano when I was three years old. At the age of seven, I joined the Schubert Boys Choir Vienna and I sang more than 220 concerts in international concert halls in places such as Japan, South Korea, Italy and Germany. Regarding the movies, it's more a hobby than an actual profession. Some of my relatives are in the film business but this is not my way to go.
What kind of projects are you currently working on? And could you tell us a bit more about your previous projects?
At the moment we are preparing a showcase called 'Ancient Mysteries – an Irish Tale'. It combines the enchanting world of fairy tales with the real world in Ireland back in the 1890s. We see stevedores doing their business and fighting their daily struggles until one of them finds out that he has a higher and more important task and purpose in life. And he does so when he meets fairies… I'm not telling you anymore here! It is going to premiere on October 24th. We have some great Austrian actors playing the roles.
Last year, I challenged myself with an outstanding artistic project. I wondered if it was possible to bring a Broadway show to Vienna by working with musical theatre students and singers. After one year of preparation, we made it, and performed 'Miss Saigon' at the Vienna Concert Hall. It was an amazing experience.
Final question, as it's at the heart of everything we do at Entain, what does 'For the good of entertainment' mean to you?
For The Good Of Entertainment means to get better and grow in different areas of life. But with one basic purpose and one goal to follow that is for the good of entertainment. The world is a stage and we are here to entertain people, to bring them happiness and make them enjoy life more.