Meet Mariana, Our Test Engineer
"To the girls and women out there thinking about working in tech some day: do not give up easily and try not to doubt yourself."
Catch up with Mariana on her experience working as a woman in tech...
Tell us a little bit about yourself.
I'm a Test Engineer and have been working at Entain for just over a year now. My role is to assure the quality of the software developed by my team, before it's delivered to our internal clients. 
I remember seeing a video showing people who worked at Entain and around the office. The international environment, the happiness and the diversity of the team came through and was what made me make the choice to apply to work here.
What was your joining experience like?
What most amazed me when I joined Entain here in Vienna was how welcoming and polite the people were. Whether I had work-related questions or if I needed advice about living in a new country for the first time, people are always patient and happy to help.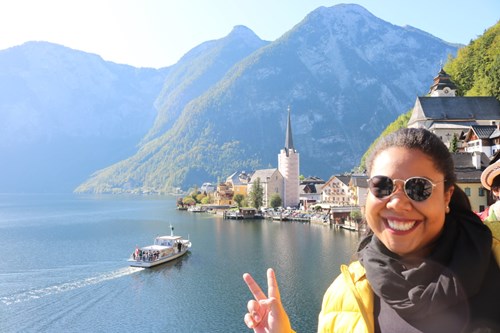 The whole onboarding process was very well planned by my manager and teammates. I had induction sessions with other newcomers, where I was able to learn a lot about the company and its culture. After that, the team made sure I had a "buddy" within the team, from whom I was able to learn more about my responsibilities without feeling overwhelmed.
What has been your highlight since working here?
Professionally, the biggest highlight for me in this past year was being part of a new project from beginning to end, and then seeing the new product that the team had delivered being used by clients – and then receiving praise for it from them.
How would you describe your experience as a woman working in a tech role?
Being the minority within the minorities, as a woman of colour working in technology has always being challenging. Even before the beginning of my career, at university classmates would often avoid partnering up with other women. Things changed a little bit after I got my first job as a Test Engineer, and during college people started not only inviting me to their groups, but also seeking my advice with their career path and asking for recommendations. Similar things happened at work – at first many people doubted my knowledge and skills, but with time and confidence I was able to cut through the many prejudices of the field.
How has the culture at Entain made you feel part of the team?
From the very beginning – during interviews, with the contact with HR, through onboarding – and throughout the past year, everybody has made me feel so welcome. Working with strict deadlines and stress is a common occurrence within IT departments. However, it was refreshing to see the overall happiness of the teams here at Entain!
What advice would you give other aspiring women in tech?
To the girls and women out there thinking about working in tech some day: do not give up easily and try not to doubt yourself. There are many paths within the IT industry you can follow, so do your research and do not be afraid of changing tracks along the way, because although it can be challenging at times, it also can be very rewarding.