Meet Les, Content Operations Manager
"My colleagues were amazing at helping me settle in. There are so many other people that have made the same leap of faith, so they can empathise with you and point you in the right direction."
Catching up with Les on all things running and relocation...
Tell us a little bit about yourself.
I am originally from Carrickfergus in Northern Ireland but moved to Liverpool in 2003 so I could go watch Liverpool FC more regularly! I have been with Entain since moving to Gibraltar in January 2018. I originally joined as a CRM Executive for Coral and have since progressed to Content Operations Manager for Ladbrokes. 
What does the life of a Content Operations Manager involve?
I lead a team of Content Executives who keep our website looking fantastic. We ensure our customers can easily find what they are after – on the homepage and beyond. We look after the banners, surface bets, quick links and much more. Part of my role is to develop each of my team members and check the quality of their work, so they excel not only in their existing roles but also beyond in their wider careers.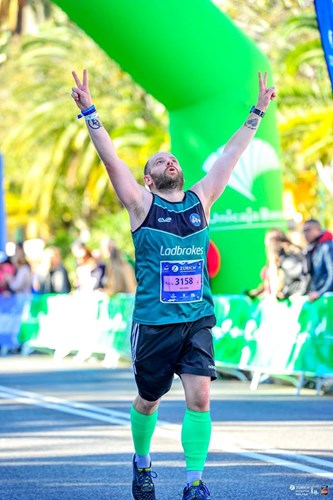 What tempted you to re-locate to Gibraltar from Liverpool?
In 2016, I was planning on moving to Ibiza with my then-girlfriend (now fiancée). We had everything set for the move, but ten days before we were due to catch the one-way flight our world got turned upside-down when she was diagnosed with breast cancer. Fortunately, she beat it, and it was then that we decided that Ibiza was too seasonal – we needed a new plan to live in the sunshine!
I've always been sports crazy and knew many companies in our industry were based in Gibraltar. Without experience in the industry I got many rejections but knew if I could just get one organisation to speak with me they would realise what I could offer. Entain gave me that chance, and for that I'm eternally grateful.
I established myself quickly and gained a promotion, which just goes to show they were right to look past the lack of industry experience.
What was the relocation process with Entain like?
It was so easy. The relocation package helped us out so much and it actually allowed my partner to rest for a few months when we got here after her treatment ended without the pressure to jump straight back into employment. Things like that, they can't ever been forgotten.
My colleagues were amazing at helping me settle in. There are so many other people that have made the same leap of faith, so they can empathise with you and point you in the right direction. It's a very social culture. There is so much you can get involved in. In every job I've had before, I've found one or two people who I've stayed friends for life with. At Entain, that number is more like 15 or 20. 
Since moving to Gibraltar, you've also set up a running club. Tell us more about that.
I started running in 2016 to help keep my weight down and really enjoyed it. When I moved to Gibraltar, I joined the local running league, but it became clear very quickly that there were two very strong clubs with fantastic athletes and very fast runners. It was nothing like the mass participation running events for all abilities that I'd been used to in the UK.  
Whilst I hate using phrases such as "recreational runners" there was a void that a club with a different ethos could fill. So, I – along with five other independent runners – set up the 'Carpe Diem Running Club' as a means of giving more people the support network and confidence to come along and give running a go.
How supportive have Entain been?
Entain runs through the heart of Carpe Diem. The company have supported us from the get-go, allowing me to raise awareness amongst our employees, some of whom have turned into members. I'm also grateful for the help we received from the company to get kitted out – the creative team even designed our club logo!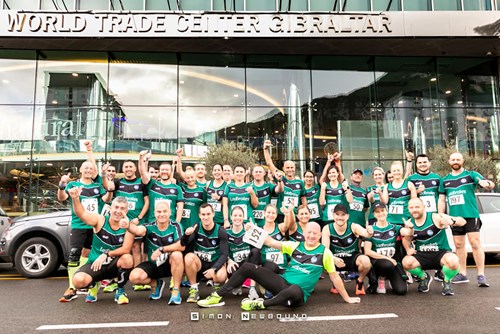 What's been your biggest achievement with the club?
In terms of the well-established running traditions of Gibraltar, our size has been a shock to the system and that's something I'm so proud of, as is the inclusivity of our club. Participation in road races in Gibraltar has doubled this season and the volume of female runners this year has been amazing. We have an even split of male and female runners. Some races had as few as four women last year – we regularly bring 25 to 30.  
Our youngest member has just turned 18 and our eldest is in their 60s. We have 15 different nationalities in our ranks, so it's a real eclectic mix of people and that has helped me to learn and grow as a person. It's amazing to be in such an inclusive space.  
The most joy I get is seeing people who told me they "couldn't run" achieving what they previously thought was impossible. Looking around our office I see people who used to find 2km difficult now sitting there with half-marathon and marathon finisher medals using phrases like "Sure, it's only 5k". 
How has the club adapted during the lockdown in Gibraltar? 
27 us did the Rock 'n' Roll Madrid virtual race. I did a half-marathon on my 9m wide balcony. A half-marathon is 21,097m, so there was quite a lot of turning round! I clocked 2:24, which is a lot slower than my normal time, but being on my balcony did mean I was never far away from the water station.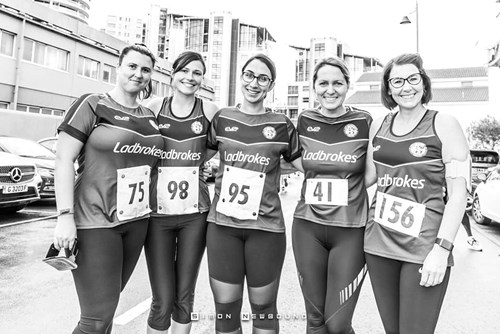 Are you passionate about any other sports? 
Football! I used to manage a Sunday league team in Liverpool. But therein lies the beauty of a running club. If two people don't turn up for your Sunday league game your match is ruined. If we have a couple of no-shows on a Sunday it doesn't spoil anyone else's race. 
As it's at the heart of everything we do at Entain, what does 'For the good of entertainment' mean to you?
It means carpe diem regardless of whatever life may throw at us. If every single person gives their best, we will seize the day and deliver for our teams and customers!