Meet Jessy, Our Conversion Manager
'I had exceptional colleagues when I joined, they were really passionate about what they were doing. They nurtured what I'm best at. Their support was amazing – I'm very grateful that I met those brilliant people!'
We sat down with Jessy for her take on relocation and career changes...
You relocated from London to work for Entain in our Gibraltar office. What attracted you to make the change?
My grandmother was born in Gibraltar, so I had those roots here. I really wanted to experience the culture, it's like a bustling hub. You can go to Spain and Sierra Nevada on the weekend. Or you can go to the beach, or Portugal, and everything is connected by car. It's not as busy as London. The time you spend commuting in London, you could just be here driving, enjoying the scenery and stopping along the way in a little pub. The lifestyle really appealed to me, as well as the sunshine!
What was the recruitment and relocation process like? How did Entain help to facilitate the move?
It was great. When we first moved over, Entain supported us with rent, which was really helpful! They also helped us moving over some of our boxes because after living almost six years in London we had plenty of things. And beyond that, Entain really helped us to settle in properly, with things like my gym membership. That was amazing because I really liked going to the gym in London, so it helped me to feel at home straight away.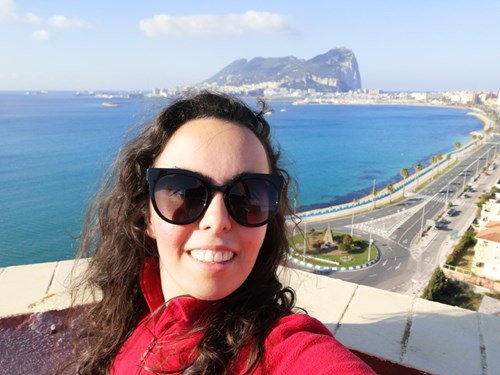 How have you found living and working Gibraltar?
We are living in Gibraltar, which is great as there is no commute!. The rent is quite expensive in Gibraltar, but in Spain you can have a bigger flat for the same monthly rent. I really enjoy living in Gibraltar though – it helped us settle in and be more relaxed than having to cross the border every day.
The office atmosphere is super relaxed. The culture is very welcoming, it's so friendly. We get lots of fresh fruit in the mornings – that's a delicious bonus. Then there's a lot of social events, sometimes they do karaoke or quizzes. We have many different events throughout the year. There's the summer party, which is amazing. The Christmas party is also very cool. A little bit colder but still great!
Would you say it's quite close-knit team?
Yes! When you start you think you might feel like "oh, nobody knows me and it's a bit intimidating", but everyone is so friendly. They'll introduce you to people, and sort out WhatsApp groups and you can just jump in.
Your role as a Conversion Manager – can you tell us a little bit about that?
Essentially, we follow a scientific model to optimise personalisation of our customer journeys. We work closely with the acquisition and CRM teams, with our aim being to identify pain points in the customer journey. It means we gather data and create insights to formulate hypotheses in order to test and learn. We work with many stakeholders in order to implement a conversion rate optimisation roadmap, monitoring the conversion rates of customers in the marketing funnel.
For example, if there's a specific landing page that many people are bouncing off – that means that they land on the page, they don't see what they're looking for, and then they leave – we try to find out first what they were looking for, why they left and then test different things to understand how we might be able to better convert customers on that page, giving people what they're looking for and making their experience on the website a little better.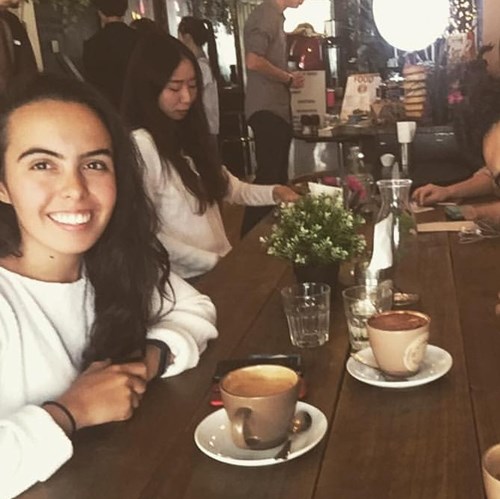 But this isn't your first role at Entain, you've had quite a journey.
I joined in March 2019 as a Marketing Executive. And it was amazing. I joined during the week of Cheltenham Festival, it was super exciting. There were so many things going on. You could just feel the hype in the office.
 I had exceptional colleagues when I joined, they were really passionate about what they were doing. They nurtured what I'm best at, which is a data gathering and analysis, so they supported that and then pushed me to apply for my current role. Their support was amazing – I'm very grateful that I met those brilliant people!
What advice would you give to colleagues who want to move into a different team or department like you've done?
My advice is to first find out if you're really going enjoy what you want to do. Speak to somebody that is already in that role. Because then you can learn a lot from them about their day to day, what you're going to have to do, and that really helps you understand what areas you need to develop in yourself.
For instance, I give a lot of presentations and I wanted to be more confident in telling the story behind the data. That is a skill that you need to acquire. There are so many places like where you can learn, but first identify the areas or skills that sometimes aren't on the job spec. Then don't be intimidated to apply – see what feedback you get because it's always a positive opportunity to learn.
On the Responsible Gambling side of things, was that a consideration for you when you first joined Entain?
Absolutely. When I first started, I was quite scared, thinking that it's going be completely different to what I was doing before. There are all the regulations, but it's key at Entain to be compliant, and that makes your job better – knowing you are working to help support safety regulations makes you feel good.
Often, when people haven't worked in the industry, they can be quite misled by the media. We make sure people are entertained. It's a hobby for some people, and we work to make sure it's entertaining but safe. Responsible Gambling is something that's integral to working at Entain, you 100% want to do what's right for the customer.