Meet Jack: Our UX and UI Designer
Norwich fan and UX & UI Designer Jack Beel dropped in to talk all things graphic design, Jamiroquai and career development. Jack joined us after graduating from Sheffield Hallam and is enjoying his current role as a UX & UI Designer.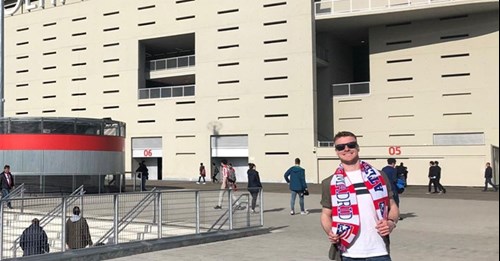 Hi Jack. What is your role in technology?
UX & UI Designer - I work across all Ladbrokes Coral products such as our mobile apps and websites. This involves a kick off meeting in which we can discuss new ideas or features that can benefit our company.
Ideas can stem from our department or innovation and we always get an opportunity to be right there from the start. Usually we get the chance to validate our ideas with in-house usability testing to make sure our ideas are feasible. If a new feature is coming out we will work with Product Owners to decipher what kind of features they are looking for.
How long does the commute take you and what's your go-to playlist?
My commute takes 45 mins and my go-to playlist includes Jamiroquai, Red Hot Chilli Peppers and Jimi Hendrix.
Current Netflix obsession?
Always Sunny in Philadelphia.
What would you do if you won the lottery?
Firstly I'd pay off my parent's mortgage and then I'd jet off first class to New York and start my own Design business.
Why did you decide to join us?
Originally from Norwich, this is my first job in London so I wanted to find something I had a passion for. I really liked Carl (Head of UX/UI), the team are all awesome people, the career development opportunities and the exciting ability to travel to other offices abroad.
What does a typical day look like for a UX Designer?
It always starts with a coffee! We go through the day's tasks from daily stand-ups/product team and prioritise. We piece together our designs using Sketch for UI - recently trying out Invision Studio, trial and error. Prototypes we will use Invision or Principle to add in micro interactions.
What is a fun fact about yourself?
I play in a band sometimes (guitar) and I love travelling to new places (New York being my favourite place).
Has your role differed at all since joining?
100%. More responsibilities, starting slow and working my way up, now kicking off and being an integral part of projects.
What are the offices like?
It's a good place to improve table tennis - I am willing to challenge any new employees to a game. A good place for a sports fan - constant competitions and games on the TV. The World Cup was great round here, drinks after work and a great atmosphere.
What is your one piece of advice for anyone interested in joining us?
You need to be open to change as there's always lots going on and you must be up for a drink once every quarter at PI - where we plan out company KPIs and visit an amazing stadium. The next one is at the new Tottenham Hotspur ground.
We are currently recruiting for UX Designers to join our buzzing team here in the heart of East London. If you want to join Jack and the team, then check out some of the vacancies.