Meet Ben, our Product Manager
We caught up with Ben, one of our Product Managers, to discuss more about the Product team, his role and his love of Tottenham Hotspur.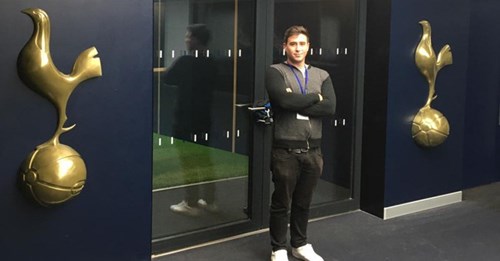 Hi Ben! What is your role in the Product department?
I am a Product Manager in the Retail and Omnichannel Product team, with a specific focus on all things BetStation.
How long does the commute take you and what's your go-to playlist?
I actually live in the Olympic Village so a 15-minute walk across the park. The morning commute is all about The Guardian's 'Today In Focus' podcast - an absolute daily must listen for me.
Current Netflix obsession?
I finished 'Line of Duty' and 'The Way They See Us' this weekend, so probably moving on to the new series of Black Mirror soon.
Why did you decide to join us?
The industry is now and always has been close to my heart. My weekly trip with my father since I was 7 was to get the Racing Post (for him), Match magazine (for me), a pint (for him), a diet coke (for me), lunch in the pub (for both) whilst watching the 12:30 kick off and then he would pop into the bookies before heading back home.
The social feelings of a winning bet, the celebration when a goal goes in, the shouting at the tv when it's not going your way and the gloating when it does surmount financial gain. Which reinforces my belief that when done responsibly, gambling is a fun British past time enjoyed by myself and my friends since turning 18. So, as you can imagine, when Ladbrokes Coral called me and asked if I would like to interview, I jumped at the chance and after working for an e-commerce consultancy and software agency for 5 years, it was definitely a move that excited me! Ladbrokes Coral is a pure sports focused company within one of the fastest moving industries in the world, with total focus on the customer and improving their experience albeit in a shop, online or in between.
Tell me a little bit more about the Retail-Omnichannel Product Team?
Over the past 10 years, we have all heard about the death of the high street, and as consumers see ever more shop closures the highest level of innovation seen so far is a click and collect system or self-service checkout. This innovative drive is the polar opposite for the Omnichannel Team.
We are tasked with reinvigorating the high street, becoming the link between retail and digital whilst understanding the customers and their behaviours. We mine data on our customers activity, their wants and needs and use this to tailor experiences to them and to incorporate new products. This means; new ways to make our customers more aware of promotions, additional entry points to using our digital apps both in and out of store, redesigning the retail gambling landscape be it with extra touch points in store, ease of navigating a betstation terminal, synergy of the screens in shops or placing your bet, tracking it online and adding your winnings to the wallet of your digital account and playing again digitally, and ensuring customers get the best prices available.
What does a typical day look like for a Product Manager?
The day in a life of a Product Manager changes day to day. Our main duty is the development of the product we are in charge of, so naturally we spend time with the development team and dictate what we should be building. However, new software releases need to be communicated to the shops in which the product updates will happen, and if necessary, create documentation to train staff.
New products or updates also require liaison with marketing to ensure promotion of new features. All the while, product managers will be undertaking user data analysis; whether that is via click and transaction data or in person customer experience sessions to uncover opportunities for the product or customer pain points which can be solved. This forms the backbone of idea generation and subsequent business case creation to pitch to the wider business and business leads, then plan these ideas with the UX team to draft designs and user flows, before returning to the development team to discuss what the next item on the roadmap is and what the new requirements will be. It is a fine balancing act which requires good organisation and a proactive mindset.
What is a fun fact about yourself?
Tottenham Hotspur season ticket holder and I can do a rubix cube in under 3 minutes.
Has your role differed at all since joining?
I joined the company as a Digital Business Analyst, but I always wanted to move into product, and I was given that chance in late 2018.
What are the offices like?
The technology and product office is great! There are probably 100 50-inch TVs; used for site reliability data and sport fixtures throughout the day, break out areas, tv rooms, Playstation rooms, table tennis table, free food, and large modern meeting rooms with interactive screens. All of which are designed around a running track, so we know that sport is the essence of everything we do.
What is your one piece of advice for anyone interested in joining us?
You do not have to be a gambler to work at Entain but you must love sport, and be interested to learn about each and every sport around the world. If you understand a sport, you can then understand why customers are interested in it as a whole and the intricacies within the sport and are therefore one step away from truly assessing and more importantly, understanding your customers' needs and desires.
Also, supporting Spurs doesn't hurt either.
Want to join Ben as a Product Manager? We are currently recruiting within the Retail-Omnichannel Product Team and are based 2 minutes' walk away from the hipster heartland that is Hackney Wick.