Meet Adam, Our Head of Gaming
"I will pick game strategies apart until they are solved. To have a job that can positively channel that energy makes coming into work every day an absolute pleasure."
From professional poker player to Ladbrokes Ireland Digital and Betdaq's Head of Gaming, read about Adam's journey!
How long have you been a part of the Entain family? 
I am a relatively new starter within Entain, having only joined the Dublin team back in July 2019. Previously I was part of the Gaming team at a competitor, in a very broad role looking after the Poker, Bingo and Exchange games, as well as the VIP customer segment for Casino and Arcade. Before entering the industry I used to play poker professionally.
Head of Gaming sounds like many people's idea of a dream job. What does it mean in reality?
It is, at the very least to me! At heart, I have always been a gaming nerd and have committed what some might say is too much time playing all kinds of board, card and video games. I can get quite obsessed with dissecting the mechanics of a new game and, combined with a deep hatred of losing at one, I will pick game strategies apart until they are solved. To have a job that can positively channel that energy makes coming into work every day an absolute pleasure.
My main responsibilities as Head of Gaming are to grow the P&L for the Ladbrokes Ireland Digital and Betdaq brands. The day-to-day around accomplishing this touches all areas of the business and keeps things interesting by ensuring that no day is ever the same. My current focus has been on the Betdaq brand, where we have worked towards expanding the Casino content and bonus functionality, optimising marketing plans, improving the app and website, and growing the team.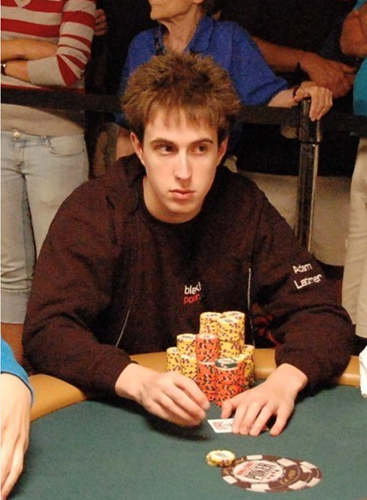 You were previously a professional poker player. What made you make the transition to working in the gaming industry?
The underrated trick to making a career out of playing poker for a living is to always play opponents worse than you. At the peak of the poker boom in 2003, when Chris Moneymaker – a real "average Joe" – won $2.5million at the World Series of Poker from an $86 investment, everybody was jumping into the game and nobody knew how to play it well. Since then, there has been a wealth of easily accessible literature that has broken down the game of poker into a science. Everybody got better and my win rate began to decrease.
Unlike a flourishing career path filled with future opportunity here at Entain, your greatest potential in poker starts at the beginning of your life and slowly declines. At some point I knew I would want to make the switch to the business side of the industry, and finally make my parents proud by getting a real job. Playing poker professionally for 10 years, however, does not qualify one to manage a multi-million pound gaming business. In fact, when I was first looking to transition into the industry all the hiring managers must have thought the same thing – a CV that showcased my main skills and experience as "playing retired millionaires at cards" was somehow not appealing for many entry level roles.
On one fateful trip to Las Vegas on a tournament package that I had won, I met the Head of Poker, Bingo & Exchange Games at another organisation. I took him out for lunch and said that one day I would want to work with him. Since he was an avid poker fan he understood the transferable skills that exist from the game itself to a commercial role. I had all but given up on gainful employment, except that two years later he called me out of the blue.
Tell us a bit about the life of being a professional poker player. Is it as glamorous as some of the movies make it seem?
The movies of course exaggerate real-life poker. James Bond would definitely have been beaten up in the car park after slow-rolling a straight flush in Casino Royale with four players already all-in.
There were some amazing times in my poker playing days, which at this point feel like a distant, happy dream. I have been blessed with travelling all over the world, enabled through the ridiculous notion of playing a card game for money.
Live Poker tournaments took me to Vegas six times, many European destinations, and as far as Macau in Hong Kong. There were moments of unadulterated indulgence in the days where poker operators had unlimited budgets to splurge on parties. One great night in Vegas was at the Playboy Suite in the Palms Palace, complete with gaudy rotating beds, DJ booths and an infinity pool overlooking The Strip. I once stayed in a 12-bedroom Vegas mansion for four weeks, with a private tennis court onsite. There were helicopter tours of the Grand Canyon, cabaret shows, pool parties and more.
Part of the real thrill of poker is the situations where there have been life-changing amounts of money on the line. The first time I played in the $10,000 buy-in World Series of Poker main event, first prize took home a staggering tax-free $8.5million. Out of roughly 6,500 entrants I placed 163rd and won $38,000. Even when writing this now, 10 years later, it is hard not to feel a bit sick about what could have been.
Despite all the glamour and affluence around you in that world, the curse of playing poker professionally is that you must remain completely disciplined in an environment of fun. No drinking at the table, reviewing your play all the time, no staying out late, remaining unemotional and calculating when you have a big loss. Your one goal is to take your bankroll and make it larger, and so all life expenditure must be carefully scrutinised. In truth, a lot of professional poker involved sitting in front of a computer all day, or keeping very unsociable hours in windowless casinos. Once I started enjoying the sunshine, hanging out more with family and friends, and drawing a reliable paycheck, I felt a long-absent liberating freedom. 
What's life like working in Entain's Dublin office? How would you describe the culture?
The Dublin office is an amazing place to work and filled with a very closely knit team. We are situated in the financial hub of Dublin along the River Liffey, surrounded by great places to eat or grab a coffee. Betdaq has the top floor, so we have a great view. Many of my colleagues have been working at Betdaq for 18 years, since the first betting exchange was concepted, with many having reached 10+ years – a testament to the positive culture. In my short time here the office has organised some great social events, including a riverboat barbeque, comedy and quiz nights, and an amazing Christmas party. All in all, I do not expect to feel homesick for quite some time.
When accepting my new role here at Entain, I had to relocate my wife and eight-year-old son over to Dublin from our home in London. Since then, my second son was born in Ireland, keeping us even busier. We moved to a small harbour town called Howth and could never have imagined living in such a beautiful area, with 360-degree views of the seaside, amazing cliff walks and local beaches.  You can buy fresh caught fish from the local market, and the seafood restaurants lining the harbour are renowned around Dublin. The Irish have a worldwide reputation of being a friendly cheerful people, and whilst living here I have received nothing but hospitality and warmth. 
Do What's Right is one of the Entain pillars. What does it mean to you?
"Do What's Right" resonates with me as I believe that the highly regulated gambling provided by operators is essential to customer safety. As somebody who has gambled professionally in many different countries, I have seen first-hand the dangers that a customer may face in an unregulated environment. The problem with unregulated gambling is that customers can easily be taken advantage of.
Entain has to adhere to such a strict standard of compliance, and so much good work in advertising standards and exclusion/time out tools has happened over the last few years to allow customers to gamble responsibly and safely. I was impressed when joining the Betdaq business to see that they were the first to donate their football shirt sponsorships with both Charlton Athletic and Sunderland AFC to Children with Cancer, months before others launched a similar campaigns.