Hero of the Hour – A Coral employee to the rescue
He didn't have a phone box to get changed in, or a Lycra suit with a big red 'S' - but Liam Strandring certainly matched the heroics of Superman when a house fire erupted opposite one of our Coral shops in Ashton-under-Lyne earlier this year where he works.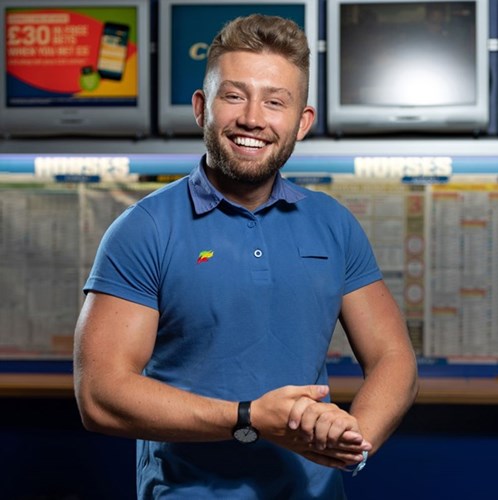 Our Customer Service Manager was going about his usual duties on a busy April morning when he was alerted to a growing blaze in the upper floor of a building across the road. Craning his neck to catch a look, Liam quickly realised that the stricken home belonged to one of his regular customers. And that's when his heart sank – the customer in question had young children.
Wasting no time, Liam darted out of the shop and towards the blaze. His own safety was the last thing on his mind, as he kicked open the front door of the house and waded in through a thick wall of smoke. With every second crucial, he scoured the rooms for signs of the family. Finally, he discovered the children's mother lying unconscious on the floor. The kids themselves were not at home – thankfully – so Liam used up all his remaining energy to haul the woman to safety, just as the fire brigade were arriving on the scene.
To the crowd of onlookers gathered on the pavement outside, the act of bravery displayed by this humble Coral employee was truly stunning. But to Liam's Area Manager, Nikki Evans, his heroics that day came as no surprise. "Liam's achievement in rescuing that woman was totally selfless – and that's how he is as an employee, too," she says" "Nothing is too much trouble for him. If another shop is short-staffed, he'll readily allow his cashier to go and cover them, even if it means he'll be left to work alone. He's opened up for us at short notice, and he'll often come in on his days off to help out."
And it's not just in his work for us that Liam puts other people first. The regular gym-goer is one of a team of three colleagues who are raising money for prostate-cancer research by taking on the gruelling Total Warrior 10k obstacle course. Their efforts could well end up saving lives – and for Liam, it wouldn't be the first time. The fire service in Greater Manchester were quick to pay tribute to the young man's bravery on that April day, insisting that if it wasn't for his quick thinking and gallantry, the mother of those children wouldn't be here today.
Nikki, for one, feels lucky to have him on her team. "Liam really is a dependable employee," she concludes. "He's a pleasure to have in the NW5 team!"
Liam's achievement in rescuing that woman was totally selfless
We couldn't agree more!
It's stories such as this that truly sum up just how incredible our staff members at Ladbrokes and Coral truly are. It's not often we hear of incidents where such bravery is needed, but we're extremely proud and thankful to have people as special and selfless as Liam amongst our ranks.