Crayford's Stadium Operations Manager Diana Illingworth shares her memories of a 39-year-long career, and passes on her expert advice...
For Diana Illingworth, what began as a flexible job she could fit around her family became a lifetime career.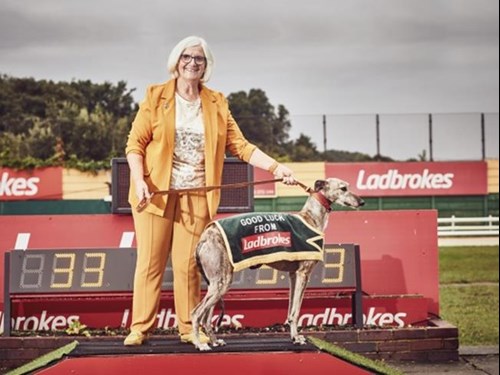 For 39 years, Diana has been part of the Ladbrokes Coral family, handling everything from sales and PR to refurbishments, and Crayford Greyhound Stadium has reaped the rewards of her glittering career.
"When I first started in betting sales, I had no idea about greyhound racing," she laughs. "I was amazed at how busy it was – I didn't realise so many people went out on a Saturday night! But the shift work suited my way of life at the time, and a friend already working for Ladbrokes had recommended the job."
Diana commenced her role in 1979, back when the stadium still ran stock-car races and bookmakers used to chalk up the odds on blackboards propped against the walls.
"The first time I saw one of the bookmakers wearing white gloves, I thought he had something wrong with him," she recalls. "I didn't realise he was a tic-tac man!"
MOVING ONWARDS AND UPWARDS
Learning on the job, Diana soon moved from betting sales to payroll, and then became a Tote Manager and Payroll Administrator in 1986. In 2003, she moved up again, becoming the Marketing and PR Manager for the stadium.
In 2005, she project-managed the refurbishment of the stadium's 250-seat restaurant, and introduced the first computerised restaurant booking system.
"I was very lucky to have such good managers, who really had faith in me," she says. "I've been given plenty of opportunities. The variety has been great, too, because although I've stayed in the same place, I feel as if I've had lots of different jobs."
After becoming Deputy General Manager in 2012, Diana was elevated to Stadium Operations Manager in 2014. Today, she has the enormous task of leading all aspects of stadium operations, including getting the punters in and making sure they all have a memorable visit.
"Getting where I am today has taken a huge amount of hard work," she says. "I've been given some amazing opportunities, but you really have to grasp them with both hands.
"I would never have imagined all those years ago, starting as a part-time betting operator, that I would be leaving as the Stadium Operations Manager, having helped to make Crayford the success it is today."
RACING AHEAD OF THE TIMES
The scope of the work involved hasn't been the only challenge for Diana. When she joined in 1979, Ladbrokes was a very different company.
"The industry was male- dominated, certainly," she says, "but we were also working very much in isolation. This was a dog track on its own, whereas now it is part of a bigger group of four – Monmore Green, Romford, Hove and us – thanks to the Ladbrokes Coral merger.
"Today, we can share more ideas, ways of working and processes than ever before. And we also face much stricter health and safety regulations.
"All the changes we've faced here have been for the better, but they all come with a new range of challenges to overcome."
And the company has become more connected in other ways in Diana's time, too.
"Everything is a lot more open now, and there is more interest in people in general," she says. "We can find out how other teams are working thanks to the intranet, and we feel more connected as a whole."
Diana came to Ladbrokes for the flexibility, but she stayed for the people. "Ladbrokes has given me the opportunity to try new things and to grow professionally, but it has also given me some of my closest friends," she explains.
"I've worked with these people every Boxing Day and bank holiday for the last 30 years, and we've grown very close. One friend joined the same day as me, and another now has their grandchildren working here, too – it's a fantastic community."
A FOND FAREWELL
So how does it feel to be going after all this time? "Really strange," says Diana. "It hasn't really sunk in yet, and I'm leaving at the end of September!" But Diana will still be around the stadium, continuing her charitable work with the Friends of Crayford Retired Greyhound Trust, which re-homes retired dogs.
Diana will be spending her retirement with her husband and her grandchildren, leaving a team instilled with her passion and dedication for this historic track.
And her advice for anyone starting at Ladbrokes Coral today, looking to continue their career well into 2057? "Be passionate and be proud," Diana says. "You will be rewarded for the work that you do."