SportsAid: Meet Paralympic skier Millie Knight
we have partnered with SportsAid to help 50 up-and-coming athletes pursue their goals at the elite level of sport.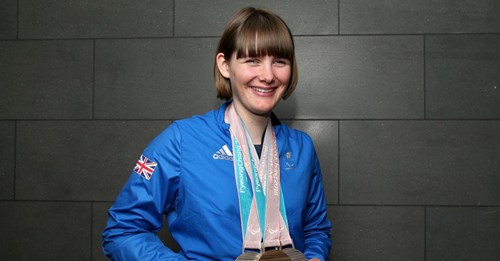 In this interview, we hear from Paralympic skier and SportsAid alumni Millie Knight, who spoke to our young athletes at a Entain/SportsAid-hosted workshop where we were first introduced to our cohort.
Paralympic skier Millie Knight insists she gained something more valuable than her world title after injury prevented her from defending it – she rediscovered her love of the sport.
The 20-year-old from Canterbury won world downhill gold in Tarvisio, Italy, in 2017 as well as claiming silver medals in the slalom, giant slalom and combined disciplines.
But she was forced to abandon her attempt to retain her title at the World Para Alpine Skiing Championships in Slovenia earlier this year due to an ongoing back injury.
And while the three-time Paralympic medallist was gutted to have to pull out of the event, she admits the break from the intensity of professional sport has actually done her good.
"This season has actually been amazing for me," said the visually impaired skier, who races with guide Brett Wild. "It's the first time since the age of 12 that I've not skied or raced over a season and to have the time off has been amazing.
"I thought it would be frustrating to have the time off, but I think my body really needed the rest and I've been able to find my love for skiing again.
"I'm ready and raring now to get back racing on snow. It has allowed me to find the foundation of friends that I have missed out on in the last few years.
"There are times when it becomes a bit of a job and a bit of a chore, so having the break from the intensity of the sport has motivated me to come out this time and do better.
"It has made me step back and figure out what my goals actually are and think, 'I need to do this, this and this'. It has given me some breathing space in my head to realise what I want to achieve."
Knight was speaking at a SportsAid workshop being hosted in partnership with Entain – the multi–national sports betting and gaming group – at the Lee Valley VeloPark in London.
I'm ready and raring now to get back racing on snow.
SportsAid supports over 1,000 athletes each year by providing them with financial support, recognition and personal development opportunities during the early stages of their careers.
Athletes are nominated to SportsAid by the national governing bodies of more than 60 sports based on set criteria, with the financial award helping towards training and competition costs.
And SportsAid alumni Knight, who previously benefitted from the charity's support, believes she will now be stronger than ever after dealing with a season plagued with injury setbacks.
"Not being able to compete at the World Championships was a really difficult position to be in and to make that decision not to race, and know what it would mean, was tough," she said.
"I was devastated that I wasn't able to come out and defend my downhill title, but I still do have that title it's just not current and what this season had given me is so much more valuable.
"The pressure would have been on to compete for my title and all the while I would have known I was not in the place to achieve it, so it was a harder decision to stop than to have continued."
Knight won two silvers and a bronze with her guide Wild at PyeongChang 2018 and she added her focus is now on Beijing 2022 – where she wants to turn silver into gold.
"I missed out on a gold medal at the last Paralympics by 0.86 of a second and that's too close to stop, I'm going to keep going and I've got three years now to find that time," she said.
"I am a stronger position now than I was this time last year so progress is being made and I think we're on track so the aim is to go to Beijing 2022 and get the gold medal."