Sandeep Tiku, Chief Operating Officer, on Entain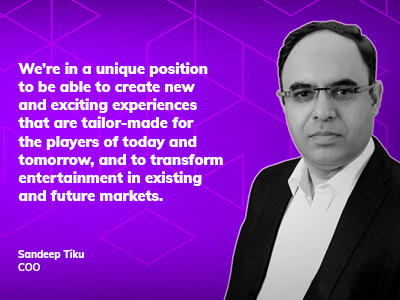 We recently spoke with Sandeep Tiku, Chief Operating Officer, and discussed how our technology will transform the industry and create the ultimate player experience.
Harnessing technology to change our industry for the better
Our industry has grown and changed a lot with the rise of technology, and with this so have the needs and wants of our customers. As technology leaders in our industry, we have an opportunity to not just embrace the new technologies for entertainment, but to also make the safest experience ever – and we're doing just that. The gambling industry is evolving, and we'll be leading the charge, with more excitement and fun than ever before and player safety at its core.
I firmly believe that Entain is the only sports gaming company that can bring about the changes that are needed in our industry to better protect our customers whilst ramping up the excitement and enjoyment that comes from what we do. Technology is at the heart of Entain, and we have a unique opportunity for the future because of that. We own our technology. Our proprietary tech and products give us the freedom and agility to change and to lead – we're not dependent on third parties.
Built for the future
We have a long history under the Entain brands, and this sets us up for the future. With a player base of 160M+ and more than 270TB of customer data feeding our AI algorithms and data scientists, we're able to predict, analyse and innovate for the customer of tomorrow better than anyone else. Our tech is built on the principles of flexibility and scale, so when we incorporate new technologies, we can do it globally. We're not just leading the charge in one country or location, we can revolutionise the industry worldwide. Whether this is early 5G adoption, VR/AR or blockchain-based responsible gaming.
However, tech at Entain doesn't just facilitate, it's what allows us to shape our destiny. We have more than 3,000 engineers working daily to innovate, to bring more thrill, more excitement and more safety than anyone else in the industry. We're in a unique position to be able to create new and exciting experiences that are tailor-made for the players of today and tomorrow, and to transform entertainment in existing and future markets.
Better and better player experiences
Entain is built upon more than 20 global brands – more than 550 years of combined industry experience – all built into one technology system. Today, we have a broader product offering than anyone else, but we're not settling there. We're building a truly personalised experience for our players, and incorporating the latest technologies as they release. We're raising the game in our industry, and our players will reap the rewards.
Our success will benefit the industry
I believe that the steps we're taking will help us acquire a significant amount of new players. We'll listen closely to their needs and wants, and by doing so we'll win their loyalty. I've no doubt that our competitors will look to follow the trends and mechanisms we put in place, and I've also no doubt that we'll always be at least one step ahead. But by being proactive and pioneering we'll drive an increase of responsibility and safety in our industry that benefits everyone involved. For the good of entertainment.