Meet Ruth Mwandumba, Talking To Us About Black History Month
We have partnered wIth sportsaid to sponsor some fantastic young athletes. 
In this interview, we hear from British Rifle Shooter and SportsAid athlete, who spoke about the importance of Black History Month.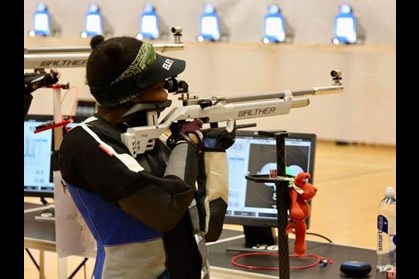 What does Black History Month mean to you?
Black History Month is significant to me as it is a time for me to reflect on my upbringing and where I originate from. My parents moved to the UK from Malawi over 2 decades ago, and I will forever be grateful that that was a path that they decided to choose for their life.
It has allowed me to be faced with the many different opportunities that I have had growing up that I may not have had if I were not in England. I'm very proud to be able to use the term 'Black-British' to describe myself (something that would have seemed like an impossible duality once upon a time!)
Why do you think this is a crucial topic in this time?
Even now, not a lot of people know much about the contributions that black people have made to British society. Growing up, we learn about the history of black communities in America, but not so much about the history of black people here within our own nation, and I think that is something that needs to change.
BHM is an opportunity to engage the country in education around the topic, and make people aware of how society has changed as time has progressed.
What is something you wish more people knew or understood?
One thing that I wish that people understood is the depth of the difficulties that black people face in this country. We are regularly confronted with racism and stereotypes, and are constantly fighting a battle over something as small as melanin.
One thing that a lot of people are unaware of is just how long black people have been present in the UK (it's actually a really long time!), and this is due to the lack of historical documentation present. I personally think that communities work better together when there is equality and diversity present within, and I think that increasing the education on black history will allow for this to become possible.
Are there any inspirational individuals that stand out to you?
As a competitive athlete, there is 1 individual who I find very inspirational and that is Dina Asher-Smith (GBR sprinter). To watch her, a black woman, represent Great Britain at the 2019 Doha World Championships and become World Champion in the 200m, was an incredible feeling. A long time ago, it would have been unheard of for a black sportsperson to be representing Britain in a sporting event of any sort, never mind a high calibre event such as that. I felt so proud in that moment, and she is exactly what I aspire to be like!