Grainne Hurst, Group Corporate Affairs Director, on Entain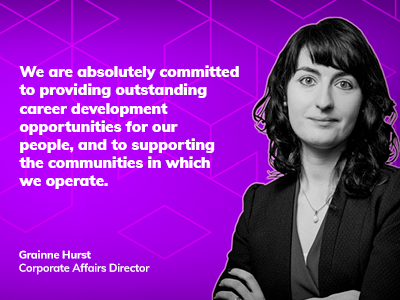 We recently sat down with Grainne Hurst, Group Corporate Affairs Director, and discussed what the launch of Entain means for us as a responsible operator and how we will truly live our purpose as we head in a new direction.
Becoming the world's most responsible operator
I'm excited about this next chapter in the history of our industry. We want to be the world's most responsible operator and we can only do that if we put our hearts and minds into it. We have a reputation for blazing a trail, for leading the way in our industry for others to follow. So when we commit to meaningful change on this level you can be sure it's not just words on a page or slogans in a strategy document. We're determined to do the right thing, we're investing in sustainability projects and programmes, and we put our money where our mouth is.
Every one of us here will continue to make a contribution each day they come to work. Our purpose is to revolutionise gambling and to create the most exciting and trusted entertainment for every customer, and we live that purpose as a strong global team. Our people make or break the business – without them, we would have no products, shops, protections, or successes. Everyone is fully committed to being bolder, braver, and better than our competitors. We're a competitive bunch and won't stop challenging ourselves and the business to do things better. Entain is a massive team effort and one I am truly excited about being a part of.
Opportunities and support
More than ever, we are absolutely committed to providing outstanding career development opportunities for our people, and to supporting the communities in which we operate. The benefits speak for themselves – an improved reputation among both our people and our external stakeholders, better retention, longer term sustainability of the business, and, most importantly, we'll be reducing the number of those who may be at risk of harm. Gambling isn't the problem – problem gambling is the problem.
Living our purpose
As part of the Entain senior leadership team, I'll be regularly updating all colleagues on what a positive difference they are making to our values. We all need to live and breathe our purpose, and leaders need to be held accountable. Together we'll be the world's leader in sports betting and gaming. For the good of entertainment.