Listen up, the results are in…
For the last year, our incredible teams have been working non-stop to deliver the best in betting, gaming and interactive entertainment for our customers across the globe.
We know, big stuff, right?
Our Environmental, Social and Governance (ESG) agenda is just as important to us as our drive to keep growing every year. And a few weeks ago, we were extremely proud to be shouting about the results of our ESG report for 2021/22, including an update on our Sustainability Charter. The Sustainability Charter is built around four core principles: an exclusive focus on regulated markets; continuing to take the lead on responsible betting and gaming; best in class corporate governance; and investing in our people and local communities. The Report also provides a further update from that provided at Entain:Sustain, in November 2021, the industry first sustainability and ESG focused event.
Highlights of the report include:
An exclusive focus on regulated markets
Over 99% of Group revenues coming from domestically regulated and regulating markets in 2021
Increased the number of domestically regulated jurisdictions 31.
Exited ten markets where we did not see a pathway to sustainable regulation through to Q1 2022
Continuing to take the lead on safer betting and gaming
Award of the Advanced Safer Gambling Standard by GamCare, the leading UK safer betting and gaming charity
Successful roll-out of our pioneering ARC™ player protection programme across all UK online products
Trials being rolled our to international markets in 2022
Increased UK contributions of RET to 0.5% of GGY
Pursuing the highest standards of corporate governance
Implementation safer betting and gaming metric into the 2022 Group Bonus scheme, with customer satisfaction metric added for 2022 scheme
40% Board is female
Comprehensive independent third-party review governance policies and procedures completed review
Investing in people and our communities
Launch of EnTrain, a multi-million pound diversity and inclusion project with the aim of reaching 1 million people by 2030
Delivery of Pitching In, grassroots sports investment fund
#1 position in the All-in Diversity Index, the industry's DE&I measure
7% reduction in absolute GHG emissions from 2020, with 100% renewable energy in the UK and ROI retail estates
Developed near-term science-based greenhouse gas reduction target, for verification by the Science-Based Targets initiative
Commitment to net-zero target carbon emissions target by 2035, which will be verified by the SBTi
Delivery of wellbeing programmes to support colleagues, particularly those affected by the COVID-19 pandemic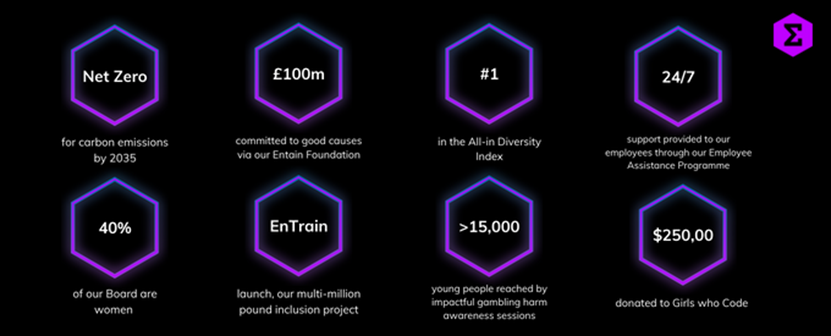 From here, we're pretty excited to see what the future holds as we continue on our journey to do better for our people, our industry and our planet.
You can read the full report here.