Celebrating our Long-Servers
This month, some of our longest serving colleagues were honoured at our Long Service Awards (LSA).
The event took place at MK Don's Stadium and 188 colleagues celebrating either 20, 30, 40 or 50 years with the business partied along with their partners and senior leaders from the company.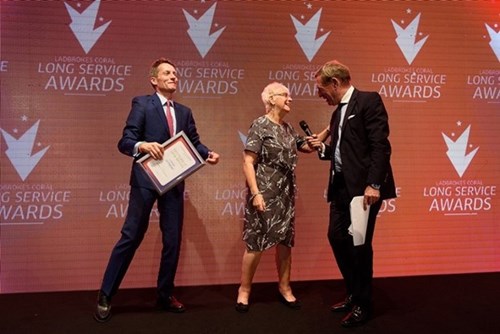 Carole Holley receives her Lifetime Achievement Award from the voice of racing Derek Thompson
One of the highlights of the evening was the award of our first ever Lifetime Achievement Award. Carole Holley provided a phenomenal 58 years of service and was presented with the special award.
Carole, who was one of four colleagues celebrating over 50 years, has seen many changes during her long career on Teeside. "When betting shops first opened, all bets used to be written on triplicate pads," she said. "The top copy was for the customer, the middle copy to work from and the bottom copy went into a clocking bag. There was no TV commentary, and the Board Marker wrote all the odds and the results up on a board. We used to get all of the results from a ticker tape.
"Every morning I used to sort out the accounts for each client and wrote out their cheque or typed up their bill. In the afternoon when the racing began, I used to man the phones and took telephone bets and settled them accordingly. At the weekends I would print out the football coupons, ready to be distributed to the working men's clubs where we had runners working, taking bets then bringing takings back to the office to be sorted. Things have moved on since then.
"The only thing that hasn't changed is the customers. Over the years I've watched most of them grow up, and now the next generation come into the shop for a bet. You tend to get a great rapport with the customers; they will tell you their life story, their joys and hopes. It's great stuff and this is one of the things I really loved about my job."
As well as a three-course meal, the night was full of fun with a quiz, a Spin The Wheel prize game and a surprise 'singer waiters' section.
Head of Sponsorship and Events, and host for the night, Adrian Osman said: ""Oh what a night! It was truly an incredible occasion with the voice of racing, Derek 'Tommo' Thompson, and the one and only Kammy there to assist with hosting on the night. With plenty of fun and surprises during the evening, our LSA colleagues had a night to remember. There were just under 5000 years of service in the room and all danced the night away in to the early hours. Role on next year!""