A post-lockdown bucket list
At Entain, we love sharing stories of our people. And as we adjust to a post-lockdown world, we take time to learn not only what new hobbies our people have found, but those they have been itching to get back to. Hear from Ashlene, Customer Service Manager, as she talks us through her post-lockdown bucket list.
Horses and their breeding, athletic ability, and great beauty have always amazed me. Also, that of the jockeys, stable hands, trainers, and staff who dedicate their lives to this cause.
On March 10th, 2020, I cheered home Henry De Bromhead's Put The Kettle On and stood overlooking the parade ring and winners enclosure at the Cheltenham Festival. This would be the last time I would feel the atmosphere of a racecourse for 16 months.
During our lockdown through 2020-21, many of us realised that we missed certain aspects of our day-to-day life which we previously hadn't fully appreciated. I missed many aspects of my normal life, one of which was being a spectator at my local race track, Down Royal, and travelling further afield to race meetings across Ireland and the UK.
So, I created a bucket list of things I'd like to do when lockdown finally came to an end.
Number one on my list was to go racing as soon as possible. This was ticked off in July 2021. During mid-July, Irish racecourses could admit a very limited crowd of spectators, 500 to be exact. I made sure that I was one of them, so travelled to County Kerry and the Killarney Races. Another number was very quickly ticked off the list whilst at Killarney when I got to meet the winning jockey of the Aintree Grand National: the one and only Rachael Blackmore.
As an amateur photographer, taking photos at Down Royal, with crowds back to full capacity, was also high on my list. The Ladbrokes Festival of Racing was the ideal opportunity to take the camera on a road trip to the iconic County Down racetrack in Northern Ireland.

It was a long-awaited day for racing enthusiasts and beyond. The Ladbrokes Festival of Racing is the pinnacle of National Hunt racing in Northern Ireland, and there was a sensational line-up of top-class thoroughbreds, including Minella Indo, Frodon, Galvin, Zanahiyr, and Envoi Allen making their seasonal debut over the two days. The atmosphere was one of pure happiness and excitement. The infectious smiles and lilt of laughter were there to be seen and heard. Much to the delight of Susan McCartney, Head of Hospitality at Down Royal…
"To have crowds back on track is absolutely brilliant. It makes it so much more special that the winners are greeted by the claps and cheers of an enthusiastic crowd. The place is buzzing, and the atmosphere is really fantastic."
Bryony Frost's first ever time to ride not only at Down Royal, but on this side of the Irish Sea, proved to be a huge success upon the Paul Nicholls trained Frodon. The Grade 1 Ladbrokes Champion Chase being the main catch to begin the season, the dynamic duo led from start to finish. There was a thrilling battle of strength and will over the last between Frodon and Galvin, with Frodon being the stronger of the pair on the run-in. With a win of three-quarters of a length, Frodon was the 2021 winner of the Ladbrokes Champion Chase. And I was there to capture it all on camera, just as I did back in 2010 when Kauto Star won the JNwine.com Champion Chase, also for Paul Nicholls.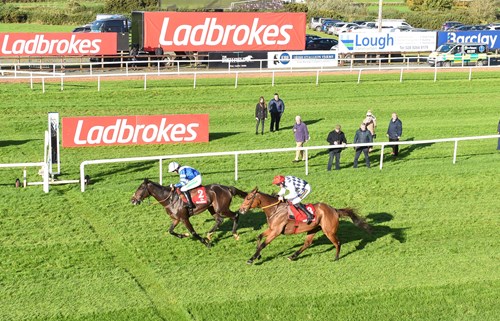 I had many highlights from the two days spent at Down Royal. Presenting the winners of the Ladbrokes Handicap Steeplechase with their prize was one. Another was getting the opportunity to shadow Nicola McGeady, Head of PR for Ladbrokes, for half of the day and gain an insight into what a day at the races consists of for her.
Emma Meehan, CEO Down Royal Racecourse:
"We are absolutely delighted to be back with a bang, with crowds en masse. We've had the highest numbers to attend Irish racing post-covid. We had 3,300 spectators yesterday and 4,800 today. It's good for the soul to see that many people on the stand for the races that have gone off, not least the most recent race, the Ladbrokes Champion Chase. And to hear the roar of the crowd, it is what we work for. The racecourse is a very different place behind closed doors. We couldn't be more delighted to welcome everybody back, and to see Bryony Frost triumphant on Frodon."
My bucket list continues……